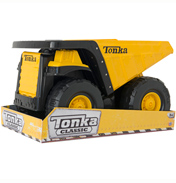 Tonka Toughest Might Dumptruck
£34.99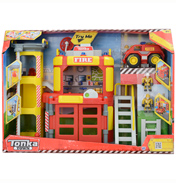 Tonka Town Fire Station
£39.99
Founded in 1947 Tonka have been supplying toy trucks and construction equipment for over 60 years. They were originally produced by the Mound Metalcraft Company, a small business staffed by only half a dozen people, which specialised in the manufacture of garden tools. The first two designs were a steam shovel and a crane. The American toy companies' signature toy is the big metal dump truck, which was sold all across the world. The all-metal 'Tonka truck' introduced in 1964 earned a reputation for being indestructible and proved to be highly popular with both kids and parents.

Today the Tonka range has expanded more than ever before, with the introduction of durable radio controlled vehicles amongst others. In 1998 Hasbro released trucks with characters into the Tonka line, which is great for the younger kids.

Over the years, Tonka have manufactured a whopping 250 million trucks. Each year they use over 5 million pounds of sheet metal and over 119,000 pounds of yellow paint! Tonka pride themselves in the build quality of their products.