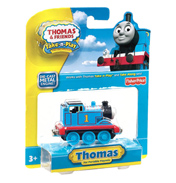 Small Engines
£5.99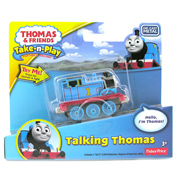 Small Talking Engines
£9.99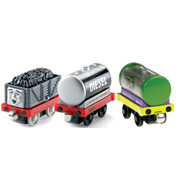 Trailers Assortment
£6.49
Are you ready for fun filled train adventure with your favourite Thomas the Tank characters? Well this selection of Take-n-Play toy sets from Fisher Price are perfect for little youngsters that want to join in the action.

Each set is so simple to set up, just open the carry case and unfold the pre-assembled track. That's it! It makes it ideal for on-the-go play such as going round to the grandparents or over to a school friends house for tea.

All the engines are made from high quality die-cast, so they're quite durable for the heavy-handed children! Each train and carriage use 'Smart Magnet' couplings, which means they can connect up either way round, unlike the sets that use standard magnets.

One of the great features on the Thomas & Friends Take-n-Play set is that it can be joined up with other Take-n-Play sets, so you could build up a gigantic set and re-enact your favourite scenes from the TV show.
One of our favourites is the Sodor Search & Rescue Centre Playset. When Flynn hears there's a fire on the track he rushes to be the first one on the scene and save the day. Watch him zoom down the slope and around the track at crazy speeds, putting the fires out as he goes.