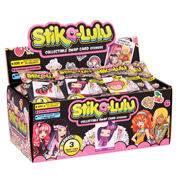 Stika-Lulu Swap Cards
£3.50
The Stika-Lulu collection is a range of swap-card stickers that are designed by the four very creative Lulu girls. Each card is from one of the several themes available, including gem, puffy, water stickers and more!

There are over 300 different Stika-Lulu stickers to collect, and each one features cool designs with a piece of secret scene on the back. Join these cards together to discover 8 different scenes from the previously mentioned themes. It's going to take time and patience to build up the collection, but if you end up with duplicates you could always trade with your friends – this way you'll build up the collection much quicker than ever before!
The stickers come in a variety of packs, including the Blind Bag that has three, and the 12-sticker pack that has … 12! You can collect them up in the cool Sticker Book and even store your spares in the Stika-Lulu collector tin.

Take the magic of Stika-Lulu online by entering the unique code displayed on every sticker you collect. Pop it in to the Stika-Lulu website and discover a whole new world of internet sticker madness!