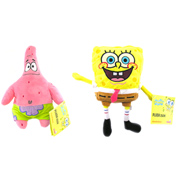 25cm Plush
£9.99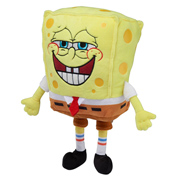 Exsqueeze Me Plush
£19.99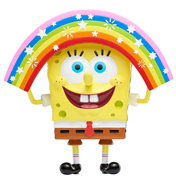 Masterpiece Meme Imagination Spongebob
£25.99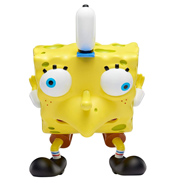 Masterpiece Meme Mocking Spongebob Figurine
£25.99
Masterpiece Meme Spongegar Figurine
£25.99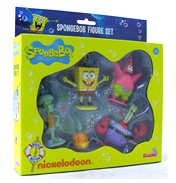 Spongebob 5 Figure Pack
£9.99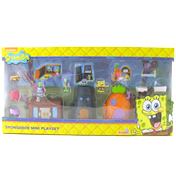 Spongebob Mini Playset
£13.99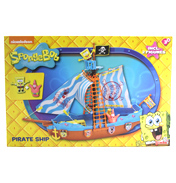 Spongebob Pirate Boat Playset
£21.99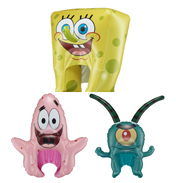 Spongeheads Assorted
£15.99
This character range came about as a result of an immensely popular animated show shown on the channel called Nickelodeon. It was created by a marine biologist and if you know that it sort of makes sense. Spongebob Squarepants lives under the sea – in a pineapple and has a pet snail who he calls Gary – which sounds like a cat (if you think this is strange read on!). His home is located in a town called Bikini Bottom which is just like any other city you might imagine – and it is in fact based on Seattle. Well maybe not quite how we imagine, perhaps loosely! Try Lego's set called Good Neighbours at Bikini Bottom for a good way of introducing yourself to Spongebob's world.

The main character's name is very effective at summing up how he looks – like a sponge in a pair of square pants – he is yellow just like the popular sponges and has brown legs. He may only have a couple of teeth (!) but he has beautiful big eyes and a fabulous smile. He has a lot of energy, a bit too much really, and always looks on the bright side of life. Now Spongebob Squarepants has a special friend called Patrick Star – you may even call him a best friend. He goes everywhere Spongebob does and if he is not with him, he is hanging around for him or even tidying up after him. A little bit daft but his heart is in the right place. Looks wise he is nothing to write home about – pinkish, spotty and with a peculiar pointy head. He also has his tongue hanging out, but don't let this put you off he actually looks quite cute – oh and he lives under a rock.
Next let's take Squidward Tentacles who is an octopus and he looks a little bit miserable if we are honest. He lives next door to Spongebob and is not too impressed with him or his friends. He has illusions of grandeur and fancies himself in the arts or such like – at the moment though he is biding his time working as a cashier. He's a little bit bitter about this, hence the face! He is also a green colour which doesn't help his cheery demeanour.

Sandy Cheeks, another character, is a Texan squirrel girl and hangs around in her scuba gear, looking a bit like an astronaut, including oxygen air bubble as she is the only one who cannot breathe in water. She's quite fearless, excellent at Karate and has very large front teeth, which stick out even when her mouth is shut. If you listen to her Texas drawl there is nothing she ain't caught and nothing she can't catch.

Finally Mr Eugene Krabs is the entrepreneur of the deep and the boss of both Spongebob and Squidward. He counts his money a lot and when he is not doing this he is daydreaming of ideas to make more money. He has a secret krabby patty burger recipe which he will share with no-one, especially not Sheldon Plankton his enemy and business rival who owns a cheap fast food restaurant over the road from the Krusty Krab. Lego's product Krusty Krab Adventures gives an accurate depiction of what goes down here.

Now you have met all the characters have a look at what you can buy, Lego have created some wonderful products incorporating Spongebob Squarepants, which you can find here.