Shaun the Sheep Key Ring
£6.90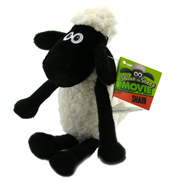 Shaun The Sheep Movie 20cm Bean Toy
£9.99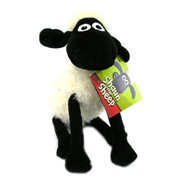 Shivering Shaun Plush
£13.65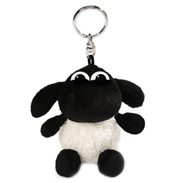 Timmy Time 10cm Keyring
£8.99
This creature is one of the star characters of A Close Shave which is one of Aardman Animations films about Wallace & Gromit. Following on from the success of his character there the company created a television series called Shaun the Sheep – so he is now a star in his own right! Deservedly so we think.

A close shave is a film all about sheep rescue – Wallace has come up with a great idea for washing windows when he falls in love with a wool shop owner called Wendolene Ramsbottom. As a show of his love he invents another machine called the Knit-o-matic which basically is a quick way of taking wool to create yarn. Shaun is one of the sheep featured in this film as he ends up as a sheep escapee from Preston, Wendolene's sheep rustling dog, wrecking Wallace's home in the process. Wallace & Gromit decide to give him a good clean up in another one of his inventions the Wash-o-matic only he ends up in the wrong machine – the Knit-o-matic and gets a full shear down and not what was anticipated. They adopt him as their new sidekick and give him a new name Shaun – do you get it – it's a play on shorn! Well I never… Anyway this adoption was a good thing as it is Shaun the Sheep in the end who saves the day by knocking evil Preston out with an anvil. Although he did end up eating some of Wallace's cheese which didn't go down too well.
So what else do we know about Shaun – well lets start with how he looks – like a typical sheep! – black face, woolly coat, playful large eyes which, dare we say, are a little cross eyed and a glorious tuft of wool on the top of his head a bit like a mohican. He has a voracious appetite and there is not much he won't eat and that's why he made such a mess in Wallace's house. He has a curious nature, one that leads him into trouble, but he is brave through and through. And as to his woolly coat? Thankfully this has grown back as seen on Shivering Shaun, just take a hold of his tail to make him judder or look at one of the plush toys. Oh and he also has his own theme tune as seen on the Mini soft toys.

As a star of his own TV series, this leader of the flock now has his own sidekicks in the form of Shirley the Sheep, who has an even bigger appetite than Shaun, and Bitzer the farmer's dog who has his work cut out keeping all the sheep out of trouble. The countryside will never be the same again with this gang in operation. Plus there is Timmy the Lamb, Shaun's cousin and who is the baby of the sheep, adorable, but with a lot to learn and he has some wonderful products to celebrate his existence including Night Night Timmy who falls asleep when he lies down and snores – well he is only three, soon to be four (in sheep years)!. Due to his popularity Timmy also has his own TV show (yes a spin-off of a spin-off!) and plush friends Ruffy the puppy, Paxton the piggie, Yabba the duckie and Mittens the kitty. As the baby Timmy is a bit spoilt and used to getting his own way – but now he has branched out on his own he will have to do a lot of learning.

Join Shaun the Sheep and his friends today and have a whole lot of fun. Big brands Lego and Aifix also have items here in the Shave a Sheep Game and Model Set.