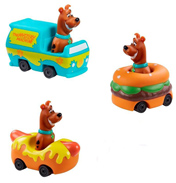 Mini Buggies Assorted
£3.70
SPECIAL OFFER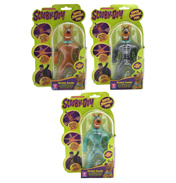 Mini Stretch Scooby
£12.99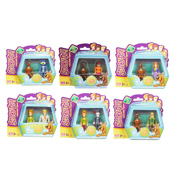 Mystery Minis 2 Figure Pack Assorted
£7.99
Mystery Minis 5 Figure Pack
£7.99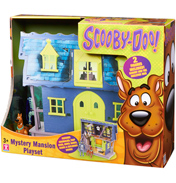 Scooby Doo Mystery Mansion & Figure
£30.30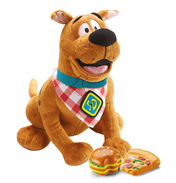 Snack Attack Scooby Plush Toy
£17.99
Stackable Soft Toys
£3.40
SPECIAL OFFER
Stretch Scooby
£22.99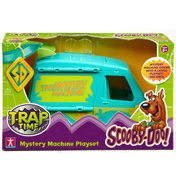 Trap Time Mystery Machine
£23.32
Scooby Dooby Doo where are you, we need some help from you now – to choose from this fabulous range of toys and games that is! Here's a little bit of a clue in to who's, who and who does what in the famous crime busting team.

Normally Scooby Doo is seen as part of a mystery solving team of teenagers called Mystery Incorporated (Mystery Inc) on the supernatural cartoon show coming across all sorts of spooky goings on. Scooby Dooby Doo (his famous line) is old – and has been on the TV for nearly 40 years, this makes him incredibly old in terms of doggie years, in fact it would be rude to say just how old. Many of us adults have fond memories of watching Scooby Doo cartoons when we were little so it is great for us, (as well as the kids!) that he is still so very popular and even more so now he has become a film star.
Scoobert to give him his formal title is a great Dane dog, in a browny orange colour, he is no winner at Crufts but incredibly loveable. Great Danes are known for their large size and Scooby is, and you would think his stature would make him a brave guard dog, well think again – he is a complete baby and is often seen jumping into the arms of Shaggy scared witless. And indeed Shaggy in the arms of Scooby as he is also a real chicken, and probably the most scared of them all when there is anything scary about. Shaggy is 'like' Scooby's best friend – and as well as saying 'like' a lot he also is famous for saying 'zoiks' and is Scooby's hippy, skinny, scruffy best friend with an incredible appetite for food. He would much rather be eating than helping to solve mystery crimes. Scooby too likes the odd meal or two and can be seen munching away on his favourite of all time – Scooby Snacks handed out by Velma who is the glasses wearing brain box of the group and generally spots all the clues. So you will see both Scooby Doo and Shaggy have similar personalities, they have rather large appetites and are both cowards and this is perhaps why they are the most popular two crime busters of them all.

Figure packs available include all of the five main mystery mate characters including Fred and Daphne. Fred, the leader and team hunk, doesn't hold back during investigations, goes straight in leading the gang into all kind of trouble. Daphne is a real beauty with fiery orange hair, is immaculately dressed in the latest fashions and owner of the Mystery Mobile vehicle which is the van they all hang out in. Daphne too has a habit of landing the team into problems.

Help them solve their next mysterious crime by buying some of these great items – the glow in the dark sets such as the Mystery Mansion haunted house and Ghostbuster van and figures are excellent fun when the lights are out and are easy to locate under the duvet! The goo pods are also extremely popular – get all gooed up locating the figure hidden inside. Scooby Dooby Doo here are you!