Armourer with Functional Ballista
£22.99
Dragon Knight Magician
£10.99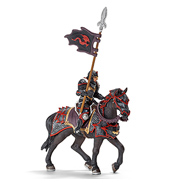 Dragon Knight on Horse with Lance
£10.99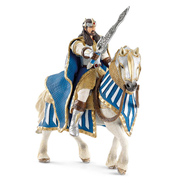 Griffin Knight King on Horse
£12.49
Griffin Knight Magician
£10.99
Welcome to life in medieval times!
On this shelf you will find a selection of brave knights and a fair damsel or two. Life in those days was far different to the life that we live today. No bombs, guns or gas to wreak havoc and destruction on a huge scale, instead the weapons of the day were likely to be a crossbow, an axe or a sword.
The knights were highly trained in the use of these weapons and also in the use of a lance when taking part in a jousting tournament. A brave and skilful knight was highly prized by his king and enjoyed many privileges. All knights would abide by a set code of conduct and chivalry. Browse through all the knights we have on the shelf and start your collection now.
Prepare to step back in time and challenge your friends to become the bravest knight and uphold the values of honour, loyalty, faith and courage.
On this Toy Shelf you will find:-
Schleich Knights Figures
Themed in either Dragon Or Griffin armour.