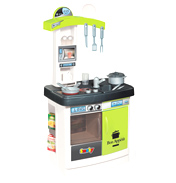 Bon Appetit Kitchen
£43.99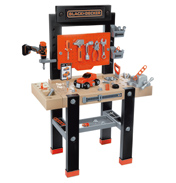 Bricolo Center Playset
£64.99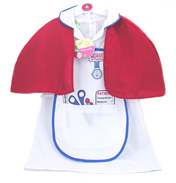 Early Learning Centre Nurse outfit
£15.99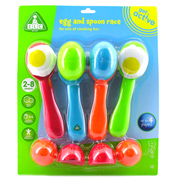 Egg & Spoon Race
£9.99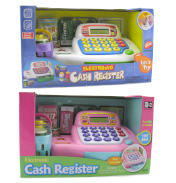 Electronic Cash Register
£16.99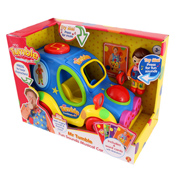 Fun Sounds Musical Car
£31.99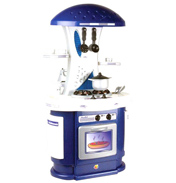 Kitchen with Washing Machine
£56.68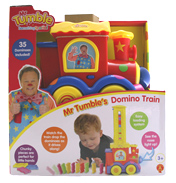 Mr Tumbles Domino Train
£31.99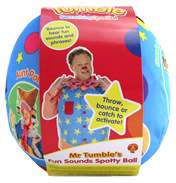 Mr Tumble's Fun Sounds Spotty Ball
£11.99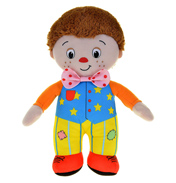 Nursery Rhymes with Mr Tumble Soft Toy
£19.94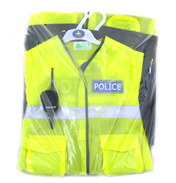 Police Outfit
£16.99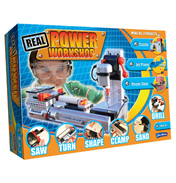 Real Power Workshop
£51.20
Growing up is a lot of fun, especially when they can get involved in role play and dressing up. Role play or pretend play is also very useful in building confidence and can be used to inspire and improve imagination skills. Here you will find a number of role play toys for toddlers and young children, for girls and boys. There are also some dressing up props which can be used as part of role play. Looking at the origins of this term, 'role play' actually comes from a theatrical expression – the 'role' coming from the rolled up script actors used to use.

Cleaning role play toys are a great way of helping out with the housework, indeed little ones will be very keen to copy mum or dad in their jobs in the household. This type of play is also a great method of learning through simulation – teach them to tidy up their toys and clean after themselves from a young age and you will reap the rewards of this later – plus in the process they will have heaps of enjoyment playing with items such as the Cleaning Trolley. They will also learn to develop empathy for others and seeing things from other people's points of view – by pretending to be mum or dad for instance.

Kitchen role play toys are extremely popular as they are generally packed with features and things to do. Kids often seen parents making meals so this is another reason why they wish to copy this sort of activity. Role play can help them understand how things work and why we use them in real life – you can even think about it as a mini rehearsal for when they are older and more independent when such skills are needed for everyday life. Role play toys in this category include some marvellous kitchens and these toys try and fit as many related activities as possible into one set – for instance the Deluxe Kitchen has an oven, hob, sink, fridge, plus accessories so there is plenty to get involved with here. Other kitchen sets include the Smoby French Excellence Kitchen, Superior Kitchen and Bon Appétit version too, so plenty to choose from. Children's tea sets can also be used in conjunction with these sets so you not only cover food prep but serving it up as well
Shopping role play is also a very good way of keeping children occupied. It allows them to play with others such as friends or family as customers, thus improving learning to play with others, sharing and also socialising skills. They may also have an imaginary friend which they play with! One of the brilliant things about shopping role play is that it helps them understand money and that if you want something, you need to pay for it. Of course connected with that, it may also help early numeracy and maths with simple product pricing, and calculating change. Shopping toys here include the Market Stall, Supermarket plus Minimarket Till and Cash Register. These toys are also a great way of reinforcing social rules and manners which are required during shopping trips (and with eating and dining out too). Plus they can also be used if they need to prepare themselves for an upcoming event – maybe a shopping trip (or meal out) where they need to be on their best behaviours.

Another way in which children love to play is by pretending to be a character, perhaps out of a book, or TV programme, or even by copying a profession such as Doctors, Nurses and Policemen. These sets help create stories and children can act out a different character every day if they so choose. Dressing up is great for parties, or for putting on a show at home, or acting out their favourite characters or maybe just a little accessory for shopping with mum and to give other shoppers a smile along the way! Have a look at the Doctors Set, or Medics Set for children, as well as Policeman's Helmet, and Knights & Warriors Set for ideas. They can also control and direct traffic with the Traffic Lights and Traffic Signs, which are really good fun when playing on a bike, with pals or alone. The lights in particular must be good as they are a top selling item.

Join them in role play for a lot of giggles, it is a really easy way of getting involved in their play and their day. Plus these sets are so good they are bound to free up a bit of time to put your feet up!