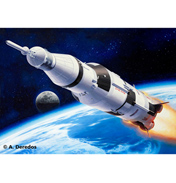 Apollo Saturn V
£19.99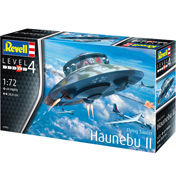 Haunebu II Flying Saucer (Level 4) (Scale 1:72)
£36.99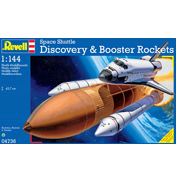 Space Shuttle Discovery
£27.99
Star Trek U.S.S Enterprise Anniversary Set (Level 4)
£45.99
It has been over 40 years since man first walked on the moon, one of the most spectacular events of the 20th Century. Neil Armstrong and Buzz Aldrin were the first astronauts to land, but it was Armstrong that took the first step and said the memorable line 'This is one small step for man, one giant leap for mankind'.

This iconic mission by NASA's Apollo space program was known as Apollo 11, and marked the end of the 'Space Race' between the Soviet Union and the United States.

Revell have produced some fantastic scaled models of the historic vehicles and space shuttles that have made the space missions possible, so now you too can celebrate these wondrous achievements.

One of our favourites is the Space Shuttle Atlantis in 1:72 Scale, as this not only features the outer detailing of the model but the cargo doors can be opened to reveal part of the interior layout. Did you know that over the years this Atlantis Shuttle has travelled nearly 126 million miles in space!

Another historic shuttle that can be built into a carefully scaled model is the Discovery, complete with two booster rockets and mobile launch pad. This 1:144 scale model also features opening cargo compartment doors and a movable launch arm.

These impressive spacecraft can now be reproduced in great detail and kept for years to come thanks to Revell models.