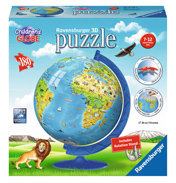 3D Puzzle Children's World Globe #1 (180 Piece)
£21.99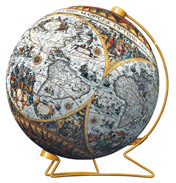 Historical Map Puzzleball
£24.99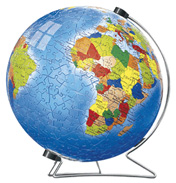 Metallic World 540 Piece Puzzleball
£24.99
The Jigsaw puzzle has been the forefront of family entertainment for many years, and even with the introduction of electronic games these puzzles have still managed to keep up and be enjoyed by children and adults throughout the world.

By now, Ravensburger has put an exciting twist on this traditional concept by taking the usually flat jigsaw, into sphere structure which they call 'Puzzleball'. This 3D system is made up of hundreds of plastic pieces that are all numbered to help with the building process.

Adults can build a globe or historic map, and children can choose from Hello Kitty, Pokemon and many more. Once the fabulous Puzzleball has been completed you can place it on the included display stand for all to see. It's old-fashioned puzzling with a fun-filled twist!

Did you know? This new Ravensburger design was launched in 2006.