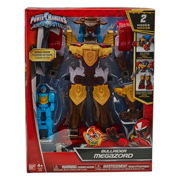 Bullrider Megazord
£26.99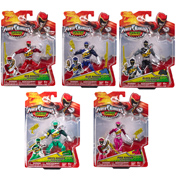 Dino Charge 12.5cm Figures
£12.49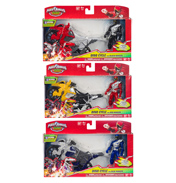 Dino Charge Cycle with Figure
£16.50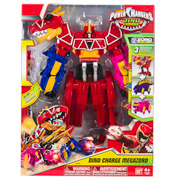 Dino Charge Megazord
£35.90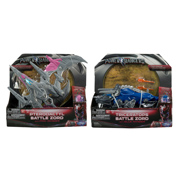 Dino Zord with 5cm Figure Assorted
£20.99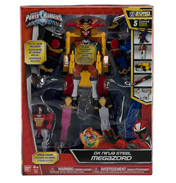 DX Ninja Steel Megazord
£32.99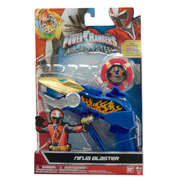 Frog Blaster
£18.99
Gold Ninja Battle Morpher
£35.99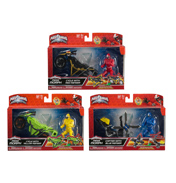 Mega Morph Vehicle Assorted
£14.99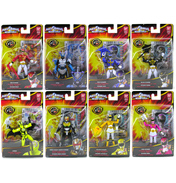 Megaforce 10cm Action Figure
£9.99
Megaforce Zord Vehicle
£16.55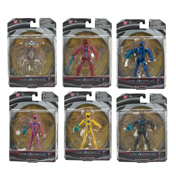 Movie Action Figures Assorted
£11.65
Who are the Power Rangers?
This range of character figures and vehicles is from the popular Power Rangers action shows. The TV programme started in 1993 as an American animated series, since then the programme has had great success and is shown worldwide, has 19 seasons under its belt and 2 films too.
Power rangers are beings that can morph from ordinary people in beefy superheroes. They have a very distinctive look – tight fitting, Lycra type suits in bright primary colours with matching coloured helmets and black visors. The morphed superstars generally have some special powers such as being able to travel really fast, have x-ray vision, super strength, have invisibility or other special battle powers. It is almost as if it is the suit which gives them this power as the individual can still be seen under the helmet.
The History of Power Rangers
Each series is called something different and has a different theme, it started as Mighty Morphin Power Rangers (MMPR) originally and more recent ones include Jungle Fury and Power Rangers RPM (Racing Performance Machines). One of the most recent is called Power Rangers Samurai and more recently, Power Rangers Megaforce.
Main characters are called Rangers and all are named and in the series there are either Ranger Operators, Allies or Villains. In Jungle Fury there are Red, Blue, Yellow, Wolf, and Rhino; Solar or Wolf Morpher Rangers with Battle Claws, Claw Cannons and Boosters, and Junglechucks. In RPM there are Red, Yellow, Blue Cell Shift Morphers and Green and Black Rev Morpher Rangers with weapons such as Nitro Blasters, Rocket Blasters, Zip Chargers or Nitro Swords. Each Ranger's weapon can be combined into other weapons and recently they have also been issued with motorbikes such as the RPM Cycles and Riders.
Jungle Fury
In Jungle Fury, many centuries ago, an evil spirit, Dai Shi, roamed freely across the Earth, waging a "Beast War" against the humans. Fortunately, through brave fighting, the Order of the Claw, a group of kung fu martial artists, part of the Pai Zhuq, were able to conquer the evil spirit and have since been able to keep him locked away. This story continues on from where Dai Shi has escaped and is a massive threat to the world. This means that three new warriors have to be selected by the Pai Zhuq master RJ and be trained in order to arm them with the knowledge needed to try to destroy this evil force. These kung fu fighters will then have the chance, if successful, to become fully fledged Jungle Fury Power Rangers.
Racing Performance Machines
In RPM a new baddie appears in the form of Venjix Computer Network who wants to rule the entire planet and in the process unleash a wave of destruction on Earth. What mankind there is left have had to hide in shielded domes to protect them from this evil force of pollution and devastation. As such a highly trained elite force of Rangers must learn about new biotech vehicles, called transporters and racer cars, which they need to drive and operate to battle the attacking machines.
Super Samurai
In the latest season a new generation of Rangers comes through and they need to learn the skills of the Samurai which will let them control Water, Sky, Fire, Earth and Forest. Aided by devoted animal Zords, again they must battle dark, evil forces and mysterious warriors.
Here you will find a wide range of Bandai Power Ranger figures and transporters from the most recent series including RPM and Jungle Fury toys. Look out too for Super Samurai.
Megaforce – new for 2013
You will also find our brand new range of Megaforce figures and sets. Brand new for 2013, the new series celebrates the Power Rangers 20th anniversary. They need to battle to protect Earth from the evil Warstar aliens. Help them to fight and protect with our range of Megazord figures, vehicles and games!