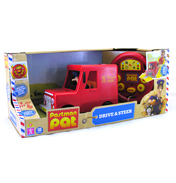 Drive & Steer Van
£29.99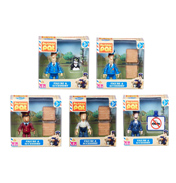 Figure & Accessory Pack
£7.99
Mini Vehicles
£8.99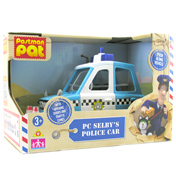 PC Selby's Police Car
£12.99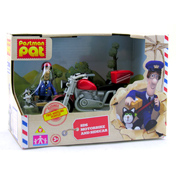 Postman Pat's SDS Motorbike with Sidecar
£16.99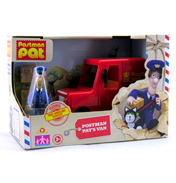 Royal Mail Van
£14.35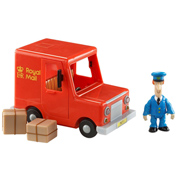 Royal Mail Van & Pat Figure With Boxes
£12.99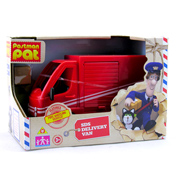 SDS Delivery Van
£12.99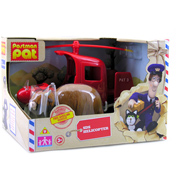 SDS Helicopter
£15.99
Special Delivery Game
£11.99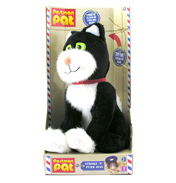 Stroke 'n' Purr Jess
£18.99
This popular character originates from a BBC children's TV programme that started airing in 1981. A lot of episodes later Postman Pat continues to be a much loved children's character. You can buy all of the best selling Postman Pat toys here but first, let us tell you a little bit more about him:

In a small village, in the country, called Greendale, in a house called Forge Cottage there lives a brilliant Postman and he goes by the name of Pat Clifton. He has been a postman for over 27 years now so he certainly knows the ropes. He used to work for Royal Mail but his particular post office was taken over by a company called Special Delivery Service (SDS) back in 2000, after which he gained promotion and he now even has a boss to report to! He is happily married to Sara, his wife, and they have one son called Julian. There's a good school in Greendale so that's where Julian goes to school where he is taught by, and really likes the Headmaster, Mr Pringle. To get a good look at Pat, and to sit with him at home whilst you watch his series buy the wonderful plush toy version of him.
Mrs Goggins, the postmistress, and Ben Taylor his Boss, run a tight ship at the village post office and like everything to run smoothly. So early every morning, just as day is dawning, Pat gets up really very early to collect his letters for delivering from her. This means he can start his post round before most of you get up, but it takes him most of the day to get it finished. He drives around Greendale in Cumbria, and also round the North Yorkshire town of Pencaster, in his van with a companion called Jess delivering all of the mail. No Jess isn't another postman he is a black and white cat and he loves to travel all over with Pat. You may know this from his Song – Postman Pat, Postman Pat, Postman Pat and his black and white cat! If it is Jess you love have him at home with you too and buy the Jess soft toy right here, he looks just like a real cat!

Pat is one considerate fellow and he's not your average sort of postman. If you have a problem or worry he will try to help and sometimes this means he embarks on lots of exciting or sometimes worrying adventures.

He has many, many friends including the Farmer Alf Thompson (who has a tractor and barn), and local handyman Ted Glen who you will see at his garage, workshop or driving his truck. Postman Pat also makes regular deliveries to the Greendale Railway Station where you will find Mrs Bains running a cafe and her husband Ajay is a train driver, usually operating the Greendale Rocket Train service. Plus PC Selby is the local policeman and you will see him around either at the Police Station or in his police car. Pat also has a friend in Amy, the local vet who is relatively new to the area. You can buy these as plush collectibles, figure packs, vehicles or buildings right here.

Pat is a qualified driver of course – driving a large SDS Van, which is eco friendly, and also being larger means he can load it up with more letters and parcels, as well as the smaller SDS Mini Van. He also has access to the SDS Motorbike which handily has a sidecar so Jess can stick with him at all times. Not many of you know he has recently qualified as a pilot and got his flying licence so now has the SDS Helicopter at his disposal too which is needed for some of the more trickier locations he needs to get to around Cumbria and to deal with difficult situations like a runaway cow!

Like the song goes Pat feels he's a really happy man! Be happy with him too with these adorable toys.