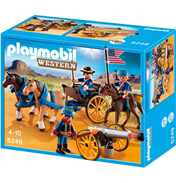 Horse-Drawn Carriage
£20.31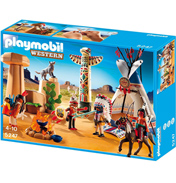 Native American Camp
£35.95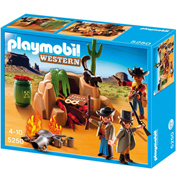 Outlaw Hideout
£11.78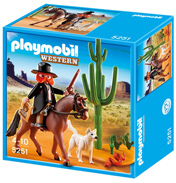 Sheriff with Horse
£9.27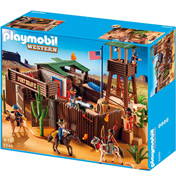 Western Fort
£112.52
Take a walk on the wild side with the Western theme from Playmobil. Youngsters will love the old fashioned 'Cowboy & Indian' scenes, where the two rival civilisations battle it out for land.

The must have base of this range is the My Take Along Western City (4398). This fold away set has two important building in the Western world, a bank and a Sheriffs station. When a dastardly fiend is in town his first stop is the bank to rob all the money, but the brave Sheriff is soon on the case. Hope there isn't a shoot out in the square!

When your Playmobil figures have to travel across the Western desert, what better way to travel than on the Stagecoach (4399). The driver will load the luggage onto the top whilst the passenger waits patiently inside. With one crack of the whip the horses will be off and on their way to the destination.

Build up your Western theme to have a huge Playmobil civilisation. Playing Cowboys & Indians has never been so much fun!