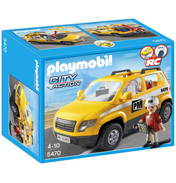 Project Supervisors Car
£15.99
Travel around the Playmobil city in style with this awesome Transport theme, which brings a huge assortment of bikes and other cool vehicles.

What better way to cruise around the countryside than with the Chopper Motorcycle (5113). Lean back and feel the breeze as you head down the freeway. Everyone will love the flame paint job and cool chrome effects.

If hurting down dirt tracks at serious speeds is the thing for you then take a spin on the Moto Cross Motorbike (5115). The rider is fully equipped with red helmet, goggles and protective jacket. If he carries on like this he's sure to be on top of the podium at the Playmobil Moto Cross Championships.

There has never been a more exciting way to travel around the Playmobil City.