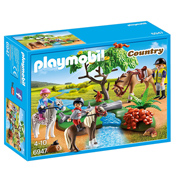 Country Horseback Ride
£13.99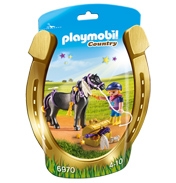 Groomer with Star Pony
£9.99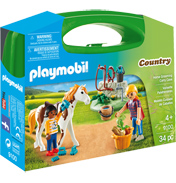 Horse Grooming Carry Case
£15.99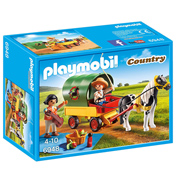 Picnic with Pony Wagon
£12.50
Pony Farm
£39.99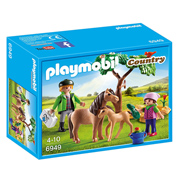 Vet with Pony and Foal
£11.99
Why not have a holiday at the new modern Playmobil Pony Ranch. Transport and your Horses and Pony friends with the Farm vehicles and put them into there own farm to look after. Train your horses to jump in the dressage arena and after take them for a wash at the washing station.

The horses 'Neigh' excitedly at the new Pony Farm: Today's the great tournament! "Shh, quiet, the tournament will start soon…" the rider whispers to her horse "Come on, let's go to the Horse Washing Station there we can make you look pretty for the Dressage tournament"

They have barely arrived at the Dressage when the Horse Trailer pulls around the corner. "Look, the favourite's coming, the tournament will start any minute now!" calls the rider. Sure enough the Horse Carriage with the spectators comes into view, followed by the Trotting Racer and the Equestrienne. The Donkey with Foal and all the horses at the Paddock watch excitedly: Who'll be today's winner?