Pirate Raider's Ship
£59.99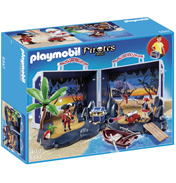 Pirate Treasure Chest
£16.99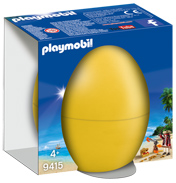 Pirate with Cannon Gift Egg
£7.99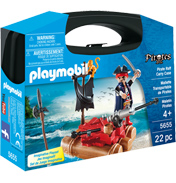 Raft Carry Case
£11.99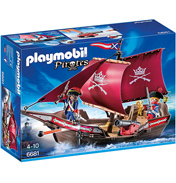 Soldier's Patrol Boat
£32.99
Ahoy me hearties! Welcome to the Pirate theme from Playmobil. Prepare your self for a wild adventure across the Playmobil seas!

These Pirates are on the lookout for some precious treasure, and they won't stop for anyone! The Adventure Treasure Island (5134) is the perfect place to start as it's packed with fun activities and extras. The Playmobil Pirates have to search for five magic coins, once they've found them they can open up the secret cave. Armed to the teeth with working cannons and swords the Pirates have the island captured once and for all!

You can't have a crew without a ship, so the Pirate Ship set (5135) would be perfect. Cast off on the search for passenger ships and hidden treasure. Use the real firing cannons to defeat anyone that crosses your path. If they capture anyone they'll be forced to walk the plank, so watch out!

The Soldiers Fort with Dungeon (5139) is the worst place for any Pirate. If a soldier manages to capture one of these dastardly men they will throw them in the cell and make sure they're locked up for good. It's armed with a real firing cannon and three soldiers. The Pirates will need all the weapons they have if they want to take the treasure from here.

Any Playmobil fan or budding Pirate would love this action packed theme. Will you be able to help capture all the treasure?