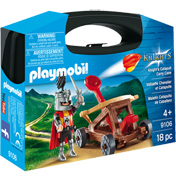 Catapult Carry Case
£11.99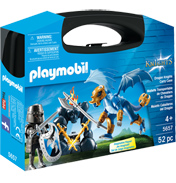 Dragon Knights Carry Case
£16.90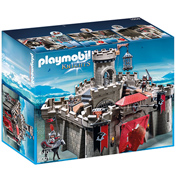 Hawk Knights' Castle
£95.99
Jousting Carry Case
£11.99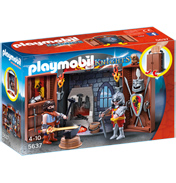 Knight's Armory Play Box
£16.99
Step back in time with the knights theme from Playmobil, an action packed medieval world where knights, soldiers and swordsman battle it out to take rule of the land.

Hundreds of years ago Knights were an important figure within an army. They were covered head to foot in armour, and equipped with a huge sword, dagger and mounted on a horse. During battles these brave men were capable of causing serious damage, taking down any foot soldier that stood in their way.

History comes alive with this huge range of medieval figures. Help the Lion knights battle against their enemies and hold onto their royal treasure. The greatest battle will be in the Lion Knights Empire Castle (4865) when the dreaded Falcon army attack. During the besiegement they will try everything they can to gain access into the castle. They will fire cannons (4872), use the multiple ballista (4868), and even try and break the door down with the battering ram (4869).

To help defend the empire, knights and soldiers can lock down the gates and throw rocks down the rock fall trap at the entrance. Use all the weapons at your disposal, if the odd enemy does get in either lock them in the cells or throw them out through the folding trap wall.

Who will you join, the good guys of the Lion army and save the king and queen. Or the villainous Falcon's who are trying to steal the treasure and take control.