National Team Player Belgium
£7.99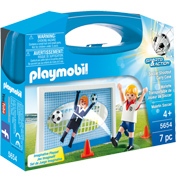 Sports & Action Soccer Shootout Carry Case
£11.99
Ladies and Gentlemen, boys and girls, let the Playmobil Games begin!

This exciting range of High Performance Athletes is just in time for the Olympics! There are a great variety of different athletes to collect, each one playing a different sport. Collect them all for the ultimate Playmobil Olympic tournament!
Each set comes with either one or two figures, along with the accessories associated to that sport. We've pulled out some of the finest below!

The Gymnast with Pommel Horse (5192) would be a great place to start. Assist him to move around the Pommel with speed and precision.

What about the Playmobil Cyclist (5193)? This girl has got to travel around the circuit as fast as she can, without hitting and of her competitors! Has she got what it takes to take home the gold?

We think the Fencing (5195) is probably the best. En guard! Play with the two figures and help them dodge the opponent's sword. Don't worry though; it's not sharp so it won't hurt!

Collect all 15 and begin your very own Playmobil Olympics!