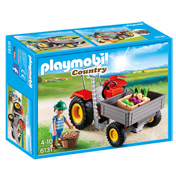 Harvesting Tractor
£15.99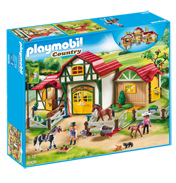 Horse Farm
£69.99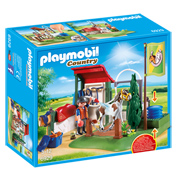 Horse Grooming Station
£21.99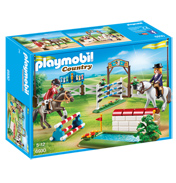 Horse Show
£23.99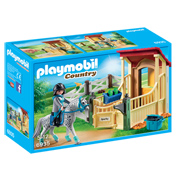 Horse Stable with Appaloosa
£17.99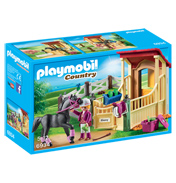 Horse Stable with Araber
£17.99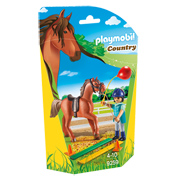 Horse Therapist
£7.25
SPECIAL OFFER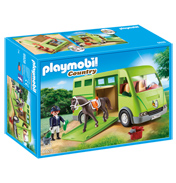 Horse Transporter
£29.94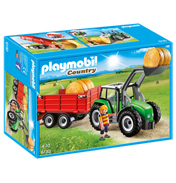 Large Tractor with Trailer
£26.99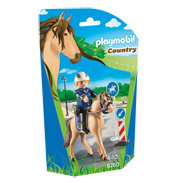 Mounted Police
£11.99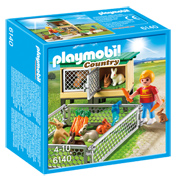 Rabbit Pen with Hutch
£11.99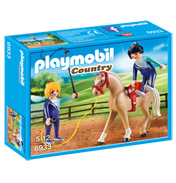 Vaulting
£9.99
This series from Playmobil brings all the animals and excitement from the farm, but in your own home! There is so much going on down at the farm, and so much to learn! The first job of the day is to take the dogs for a walk and tend to the puppies, (set 4498). Take them down to the riverbank, but be careful, they love to chase rabbits back down their holes!

In the summer it's time to harvest the crops, and the 'Harvest Tractor' (4497) is the perfect tool for the job. Help them out in the field and gather in as much as you can before it rains. Chop down the pasture for the animals back at the farm, but don't forget the carrots, hopefully them pesky rabbits won't have eaten them all!
When all the others are busy you could always help the farmer's wife over at the 'Chicken Coop' (4492). Hopefully the hens will have been very busy and laid lots of fresh eggs for us to sell at the market.

The top of the range toy from this shelf has to be the 'Playmobil Farm' (4490). This set is packed full of the everyday items you see in the farm. Cows, chicks, pigs and dogs, they're all there! The best part has to be the barn. Use the load lift to winch all those bales of straw up to the roof where you can store them for the winter.