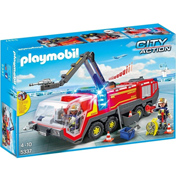 Airport Fire Engine with Lights & Sound
£41.90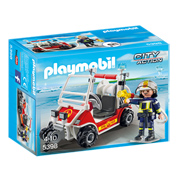 Fire Quad
£13.85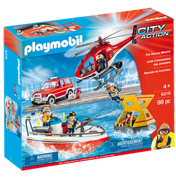 Fire Rescue Mission
£49.90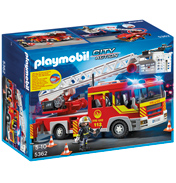 Ladder Unit With Lights & Sound
£35.99
FIRE SERIES: The alarm sounds at the Fire Station; the control room has received an emergency call. Straight away the fire fighters slide down the fireman's pole to the emergency vehicles. The lights are flashing on the Ladder Unit and the Fire Engine; they both follow the Fire chief's Car. When arriving at the scene, the Ladder Unit extends its mighty ladder. The Fire fighters with Water Pump connect their pump to the water cannon of the Fire Engine. Quickly they open the cut-off valve and pump the water onto the fire. The fire Fighting Helicopter arrives and the fire is soon under control. No time to waste! The control room has already reported the next emergency call. While the fireman stow away their equipment, the Fire chief's Car speeds ahead to get the Fire Boat with Trailer for their next call out..

HOSPITAL SERIES: The fully furnished Hospital. The admitting nurse of the new Hospital is rather busy today: Just when she's giving the Dad with Stroller directions to the Hospital Room an ambulance brings in a boy who had a bicycle accident. Quickly the doctor examines the boy. "You were lucky!" he says "No harm done, but stay one night to make sure – of course your teddy's welcome, too!"
Taking the elevator to the children's ward the boy meets the Child with Wheelchair. Together they watch the nurses bottle-feeding the babies but the best is yet to come: soon the Clown will visit the Paediatrician with Patient!