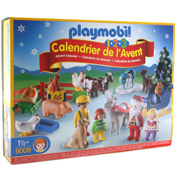 123 Christmas on the Farm Advent Calendar 2018
£18.99
Advent Calendar Royal Ice Skating 2017
£16.99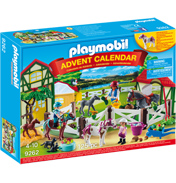 Horse Farm Advent Calendar 2018
£19.90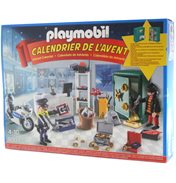 Jewel Thief Police Operation Advent Calendar 2018
£18.99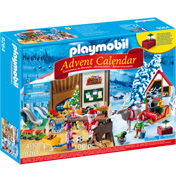 Santa's Workshop Advent Calendar 2018
£24.99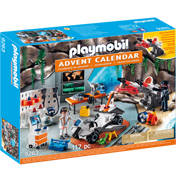 Top Agents Advent Calendar 2018
£19.47
Countdown to Christmas with Playmobil and their selection of quirky advent calendars. Every year, the Playmobil designers allow themselves to be inspired by Christmas, and develop some fantastic themes that kids will just love.

Everyday there is a special present waiting behind the doors, by Christmas time you will have built up your very own themed set packed full of adventure.

For 2011 there are some great new calendars, including the 'Emperor's Knights Tournament' (4163), the 'Dinosaur Expedition' (4162) and the 'Christmas Post Office' (4161).
Playmobil doesn't just have advent calendars this year, they also have a number of other Christmas themed sets too. Wrap up warm and head to the Christmas market with set number 4891. Browse amongst the stalls and take in the festive cheer with the carol singers. When you're done shopping head home and get comfy in the 'Christmas Room' (4892), which fits into both the 'Suburban House' (4279) and the 'Grande Mansion' (5302).

Enjoy this years festivity with Playmobil, but get them early! These sets are highly popular!