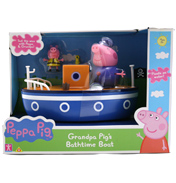 Bathtime Boat
£21.90
Colour Your Own Fashion Purse
£16.99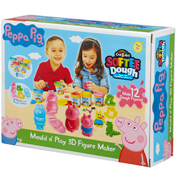 Cra-Z-Art Softee Dough Mould 'n' Play 3D Figure Maker
£13.99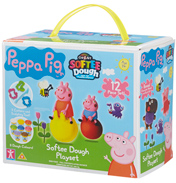 Cra-Z-Art Softee Dough Playset
£12.80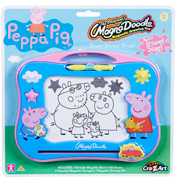 Magna Doodle Travel Size
£11.99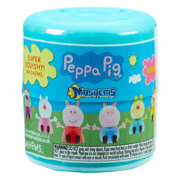 Mashems (Series 1)
£6.99
My First Piano (Five Key)
£11.99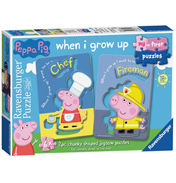 My First Puzzles 6x2 Piece Chunky Shaped Jigsaw Puzzles
£9.99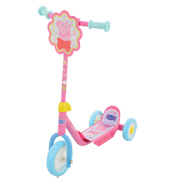 Peppa Pig My First Tri Scooter
£21.99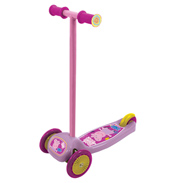 Peppa Pig Tilt 'n Turn Scooter
£26.99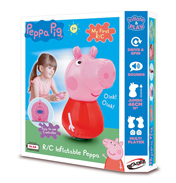 Radio Control Inflatable Peppa Pig
£24.99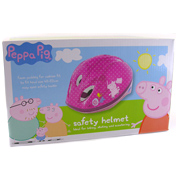 Safety Helmet
£14.99
We just adore Peppa Pig. She's everything we love about a character, pink, cute, a little bit plump, loves jumping in puddles and laughing and is a real family girl.

Her close family consists of Mummy Pig, the practical one of the group, who is lucky enough to be able to work from home on her computer which means she can still keep an eye on the kids, Peppa and George her little brother. It's a good job she can as they are only aged 5 and 18 months so she really has her hands full. George loves Peppa very much and enjoys playing with her and his toy dinosaur which he takes literally everywhere with him – in fact that's all he can say 'Dine-saw'! Daddy Pig is the biggest one of them all and laughs and laughs. He has a beard which tickles Peppa when they have a cuddle and makes her laugh too. It is very comfy to sit on his knee as he has a very large tummy – as a result of eating too much pumpkin pie, which is his favourite, and Peppa cheekily teases him about his round tum. Daddy Pig likes to read his paper, when he can find his glasses that is, and also enjoys driving his red car or the adventure buggy. In addition she has an Uncle and Auntie Pig and cousins Alexander and Chloe.
Then there is Granny and Grandpa Pig who Peppa often visits for lunch or tea or on days when mummy and daddy need some help looking after them. Grandpa has a boat and loves to go sailing, you could sail with him too in your bath with the Bathtime Boat or try his Balancing Boat. They call Peppa and George their 'little ones'. Grandma has an amazing fruit and vegetable patch and the kids love to help out with this. She has lots of friends in her land and their names are really easy to remember, they all begin with the first letter of their animal name, for instance we have Danny Dog and his family including Grandpa Dog's Garage and Pickup, Suzy the Sheep (Pippa's best friend) and Emily the Elephant. There are loads of other different animals in Peppa Pig including Rabbits, Zebras, Cats, Ponies, Donkeys, Foxes, Wolves and Bears. However her most favourite friend of all is her teddy, a toy she has with her a lot of the time. Peppa and Susy go to a playgroup run my Madame Gazelle along with the rest of her friends.

All of these characters live like humans and enjoy the same sort of activities such as shopping, going to school, playing in the playground on the swing, slide and seesaw, riding around on their bikes, going to see the ducks at the duck pond or even swimming. We don't forget they are animals though as they still give us a few clues with snorts, woofs, baas etc. In fact Peppa loves to snort very loudly, listen to her and her friends with the Peppa Pig Collectibles and hear her little oink.

Sometimes Peppa the Pig loves to dress up as a fairytale Princess, with a real crown and everything, and be just like Princess Catherine. Join her in the Royal Carriage or on the Royal Train or let Bedtime Peppa talk you to sleep whilst snuggled up in a Peppa Pig Ready Bed. When Peppa dresses up as a princess Suzy loves to dress up too as a Nurse.

Bring your home alive with the sights and sounds of Peppa with the Deluxe Playhouse, Play Den, Go Glow Story Projector and Lullaby Peppa. If you love puzzles and games there are lots to choose from in this Peppa Pig merchandise range.

Tee Hee Hee Oink!