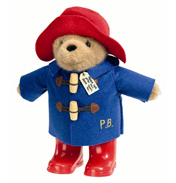 Classic Paddington Bear with Boots
£19.99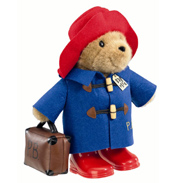 Classic Paddington Bear with Boots & Suitcase
£34.99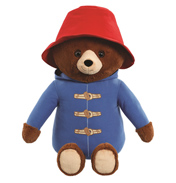 Giant Movie Paddington Soft Toy
£17.99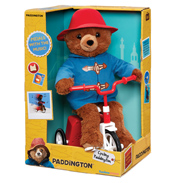 Movie 2 Cycling Paddington
£26.30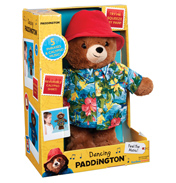 Movie 2 Dancing Paddington
£30.99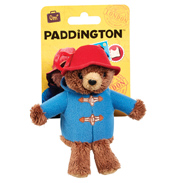 Movie 2 Keyring
£8.99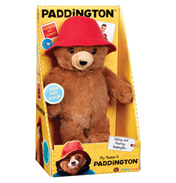 Movie 2 My Name is Paddington Talking Soft Toy
£9.47
SPECIAL OFFER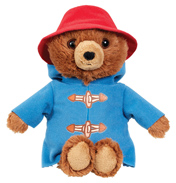 Movie 2 Soft Toy
£10.99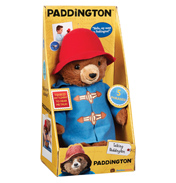 Movie Talking Paddington Soft Toy
£17.59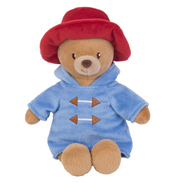 My First Paddington For Baby
£11.99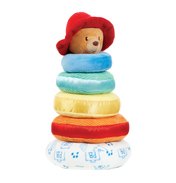 Stacking Rings
£15.99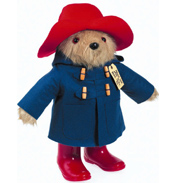 Traditional Paddington Bear
£52.99
It would be hard not to hold Paddington Bear in affection. He has been a character close to the British public's hearts since 1958 when he first appeared in books and in a television series with many, many episodes being aired right up to current time and soon the whole world began to know all about this loveable bear. Here you will find a whole array of differently sized Paddington bear figures, key rings and other themed accessories. Create your own Paddington Bear Adventures!
Here are some facts, and a little bit of history about him:

His creator Michael Bond is a well known author from London (quite close to Paddington station) and is most famous for the line of books about an adorable bear from foreign climes. It all started when he bought a bear gift for his wife which he nicknamed Paddington as it was in the vicinity of where they lived. He then soon began developing storylines for his bear to read to his wife Brenda – indeed at first it wasn't actually written as a children's book. Soon Michael's agent heard about these books and got them published with illustrations being done by Peggy Fortnum working in pen and ink.

Paddington used to live in deepest, darkest Peru with his Aunt Lucy – he was orphaned as a tiny baby after an earthquake which left him without parents so Aunty Lucy had to do her best for him. Eventually his Aunt became too old to look after him properly so she sent him off to London. First she taught him as much English as she could before she went off to a retirement home in Lima. It was tricky working out how to get him to us in England so she decided to stow him away on a boat – it's amazing he even made it, let alone alive, but he managed to sneak onto the ship's lifeboat and stayed out of trouble until the boat landed in port. He kept alive by eating marmalade sandwiches, Bears apparently like marmalade (and cocoa!). From there he somehow made it to London's Paddington Station. He had a brown suitcase with him and a luggage tag which said 'Please look after this Bear, thank you' which had been written down by his aunty. He sat on the platform amongst mail bags looking all forlorn. It was there that Mr. & Mrs. Brown spotted him. They were waiting for their daughter Judy to get off a train and went over to investigate. Thankfully they read his label and to his delight decided to take him home to live at 32 Windsor Gardens along with them and their son Jonathon and housekeeper Mrs. Bird. (You can see his label clearly on Classic Paddington Teddy). One of things which The Browns weren't clear about was his name or age – his name was Peruvian, Pastuso, which was difficult to say and he couldn't remember when quizzed about his age so they decided he should be called Paddington, as that is where they found him, and be age one again and have two birthdays a year just like the Queen does, which suited him very much. As a result his suitcase now has PB in big letters on one side so we all know who it belongs to. Generally his suitcase contains a jar of marmalade and his scrapbook. It has a secret compartment too for hiding extra special papers.

Now let's talk a little about the way he looks. Paddington can generally always be found in his blue duffle coat with wooden toggles. Sometimes he may wear his red mackintosh coat and wellington boots when it's rainy as he doesn't like to get wet, well who does? He wears a large floppy old bush hat with upturned brim in red, apart from when he has got his Mac on when he prefers to wear a blue hat. His hat is very special to him as it was given to him by his uncle. By turning up the brim it means he can still see as he wouldn't want to trip over. To see his different looks visit the products below, the Traditional Paddington Bear is his most famous wardrobe.

Although humanised he is truly a bear. He's not that adventurous and likes to stay close to home and doesn't travel well. He is incredibly polite and will always use your salutation and surname rather than a first name which would be far too personal and impolite. To hear him he sounds a little glum and hard done by, but this is far from the case. He knows right from wrong, sticks to rules if he must but finds them rather tiresome, overall though he 'tries to hard to get things right' but this doesn't happen all of the time. The family seem confused as to how these mishaps occur but Mrs. Bird has him well and truly worked out. He has a close friend by the name of Mr. Gruber who owns an antiques shop. They enjoy each other's company very much and spend quite a lot of time together talking and drinking cocoa. Why not try drinking your hot chocolate out of one of the fabulous Paddington mugs!