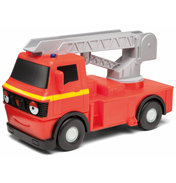 Olly the Little White Van Push Along Vehicles
N/A
The hit new TV series Olly the White Van features various vehicle characters as well as characters like Stan and Mick.
There's Olly, the main character of the series. He's cheeky and playful and loves an adventure. His best friend Bazza is mischievous and always getting into trouble. Then there's Ivan the Italian ice cream van who is driven by Mario. There's a wide range of characters and no doubt your child has a favourite and would like to collect them all!
Join Olly and friends in their adventures in Bumpton. We have various products that any fan of Olly and the gang will love. There's playsets, puzzles, models and more!
Take a look here at WWSM, there's something for any fan of the show.