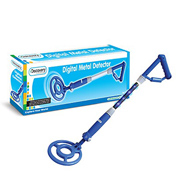 Digital Metal Detector
£20.49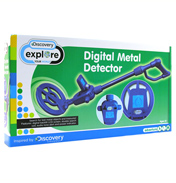 Discovery Digital Metal Detector
£24.99
Discovery Explorer an exciting new range inspired by the Discovery Channel
Get ready to take on exciting missions and see what you can discover with the Discovery Explore range of products. Aimed at young adventurers with an interest in science and the outdoors, these products are high quality but easy to use.
Check out the FM Walkie Talkies - perfect for your next adventure. A great way to encourage fun outdoors. The Digital Metal Detector will help the keen explorer to discover lost and hidden treasures. Each set is easy to use, ideal for beginners keen to explore the great outdoors!
Here at WWSM we are proud to offer you a range of sets and accessories to help you to become the ultimate explorer. Take a look at the products on this shelf and unlock your inner spy!
In 2013 the original National Geographic range, was rebranded as Discovery Explorer
Information below, relates to this now discontinued product range.
The National Geographic brand is famous worldwide as both a TV channel and a monthly magazine publication, and now here as a series of toys for kids, however it actually started as the National Geographic Society back in 1888. Its principal aim then as is now is to encourage and inspire people to care about the planet we live in. They do this through education, scientific exploration as well as to encourage and support conservation as they have from the earliest days with the historic society. Still today it remains a non-profit organisation and its interests are wide spread – from history and archaeology to geography, the environment and natural science.
In this range of National Geographic Toys you will find a number of items designed to explore the world in which we live including the compact Binoculars, with built in compass, and Metal Detector which will help you make exciting discoveries hidden beneath the ground – who knows what will be uncovered, perhaps even some missing treasure! The National Geographic Explorer Kit is also a great way of starting off your nature investigation and try keeping your bug finds in the Bug Barn complete with catching, viewing and holding equipment.
For the ultimate in exploration fun, try the massively popular National Geographic Night Vision Goggles which makes spotting things in the dark easier and gives a completely unique perspective on the natural world at night-time. What things will you discover going on which you never knew about – even in your very own back garden?
For those of you interested in the Sky as well as land the Junior Telescope has quality optics for use in both these scenarios. Plus the Planetarium shows stars and constellations as they move across the sky, projecting images onto your ceiling at home – allowing you to learn how to spot them, track them and view them in real life.
A number of science kits are also available in Chemistry and Electronics. Take yourselves and your children on a voyage of discovery and seize National Geographic's lead and use their inspiration to help look after the planet so we can enjoy it for generations to come. Explore animals, nature, people and places with these great products available here online.