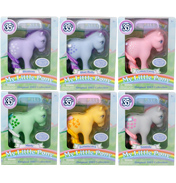 35th Anniversary Original Collection Pony Figure
£12.99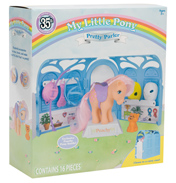 35th Anniversary Original Collection Pretty Parlor Playset
£23.99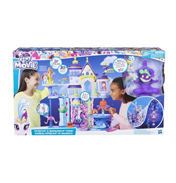 Canterlot & Seaquestria Castle
£77.99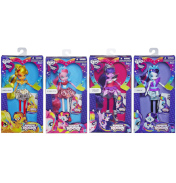 Equestria Girls Doll
£13.99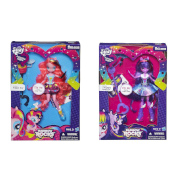 Equestria Girls Singing Doll
£27.99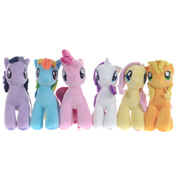 Friendship is Magic Small Plush
£9.49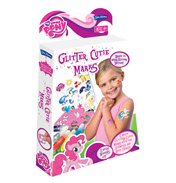 Glitter Cutie Marks
£10.99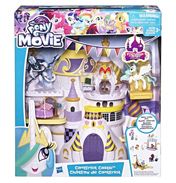 Movie Canterlot Castle Playset
£34.99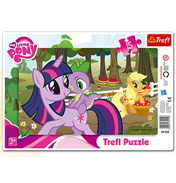 My little Pony 15 Piece Jigsaw
£6.99
My Little Pony Building Sets
£9.15
SPECIAL OFFER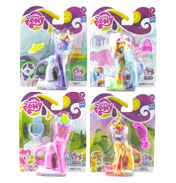 My Little Pony Crystal Princess Celebration
£6.70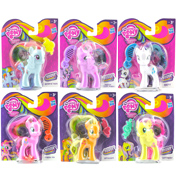 My Little Pony Friendship is Magic Ponies (Rainbow Power)
£10.50
Why don't you join all the little ponies in the world? They live in a place where you wouldn't believe, it's just so bright and colourful, and it is called Ponyville. I bet you've never seen such beautiful ponies in all of your life! They all want to meet you so you can help them look even more beautiful. Or perhaps you could help them look after their new baby 'Morning Sunshine' by giving her, her bottle and helping her sleep. There are lots exciting of things for you to do.
Collect all of the My Little Pony Friends. Let us tell you a little bit about some of them so you know just who to pick:
Pinkie Pie likes to talk on phone to all of her friends, this makes her a really good listener. It's all about the colour pink with this one and she loves anything pink – like for instance candyfloss, just because of the colour. She loves parties and inviting friends over. She has a balloon shaped house because she thinks balloons are brilliant and even has a picture of them on her bottom. Oh and you will never guess what colour she is!
Starsong is the stage-struck pony of them all, and loves to perform on the stage either singing or dancing. For dancing she has a special pair of dancing shoes. The songs she sings can be rather silly and sometimes she gets pre show jitters but thankfully her friends are on hand to calm her down and watch her perform. As a performer she has a dressing room rather than a bedroom, and in this she makes up plays with her girls, acts them out and has a lot of fun in the process. Lavender is her favourite colour and she has a pink flowing mane and some twinkling little stars on her thigh.
Scootaloo is the adventurous one of the group and lives in a tree house. She adores being outside chasing butterflies and playing sports – she likes to race people to prove she can run faster than anyone. She has a scooter for adventuring out on and also enjoys flying kites very high. Her colour is orange with a pink and purple mane. So much is her love of a Butterfly that she has them stamped on her leg.
Rainbow dash loves dressing up in the Fancy Fashions boutique – is madly into the latest fashions and colourful clothes. It's all about glamour with her and rainbows – she loves rainbows. She is blue with multi coloured mane, and has a rainbow birthmark.
Cherilee is a real clever clogs who loves learning and especially enjoys reading where she can let her imagination run wild. She tells lovely stories, grows award winning flowers and likes doing her friend's hair. She is mainly purple with a flowery bottom.
Toola roola is an artist and loves to draw and paint and to explore the area to find new things to be arty with. She gives her paintings to her friends to see their smiley faces, she's pretty messy with it too. She also takes photos and hangs them up so she can see them every day on her wall at home. She is pink with a blue and purple tail and pink and purple mane with artist tools drawn on her hind quarters.
Sweetie Belle loves purple and is a white unicorn with purple mane and pink tail. She has a teddy bear and loves to bake fairy cakes and buns with a lot of tasty frosting. She likes to study the sky with her telescope – looking at clouds during the day, imaging shapes and figures in them, and then the moon and stars at night.
Each of these delightful girls has a heart on their front legs which shows they are a true My Little Pony. Have you checked to see where yours is? If you ever forget their names don't worry as their little prints on their haunches will give you all the clues you need.

Make a My Little Pony friend today.