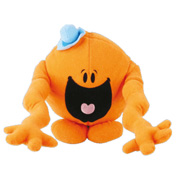 Fisher Price Mr Tickle
£43.70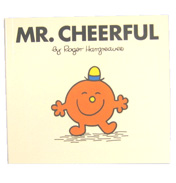 Mr Cheerful
£2.56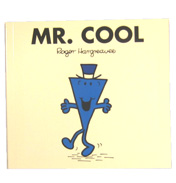 Mr Cool
£1.99
Mr Dizzy
£2.56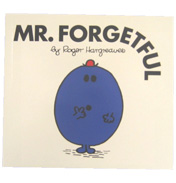 Mr Forgetful
£2.04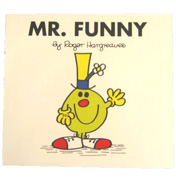 Mr Funny
£2.04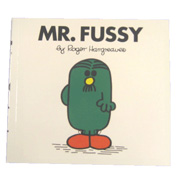 Mr Fussy
£2.56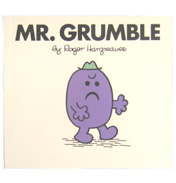 Mr Grumble
£2.50
Mr Grumpy
£2.04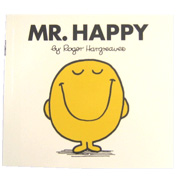 Mr Happy
£3.56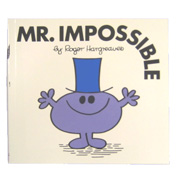 Mr Impossible
£2.04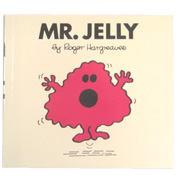 Mr Jelly
£2.04
This series of books and characters is very famous and has been since the early 1970's. The author is Roger Hargreaves who wrote his first book Mr Tickle after being questioned by his son what a tickle looked like. This simple query led to the birth of some truly unique characters and publication of six Mr Men books in August 1971.
The original cast were Mr Tickle who has very long arms and is a tickler by nature, Mr Greedy who has a very large pink tum because he eats all of the time, Mr Nosey who pokes his big green nose into everybody's business, Mr Happy who is yellow, fat, round and well, err, happy, Mr Bump all bandaged up and very clumsy, and finally spiky blue Mr Sneeze who sneezes a lot.
Rapidly the Mr Men character list expanded and to date there have been over 40 books in the series, a full book list of which is shown below most of which were written in the 70's. Each book being based around one central character with a different name and key feature. 2011 is the 40th anniversary of these wonderful Mr Men Books and here you will find not only reading material but a few loveable squishy toys too.

Each book has a set format which is part of the charm – smallish, in a white square with a big picture of the character on the front, name and not a lot else. They still have the same look today as they did in the early days and this is partly the reason why we adults hold them dear to our hearts as we too can remember reading the very same words when we were small. Remember too the TV series on the BBC which was narrated by actor Arthur Lowe? Simply adorable.

Do you want to recap on all the names again? Well here we go, alphabetically to make it a little easier to digest (excluding the ones already listed above), plus a little fact for good luck:
B's - Mr Bounce who is yellow and acts like a rubber ball, yellow Mr Brave, and Mr Busy who's quick and fast at everything;
C's - Mr Chatterbox who likes to talk a lot, Mr Cheerful is very cheery and orange, Mr Clever wears glasses and is just the cleverest person in the whole wide world, whoops says Mr Clumsy, and Mr triangle shaped Cool on the look out for fun;
D's - Mr Daydream looks like a blue cloud, plus Mr Orange Dizzy who is quite dopey;
F's – oh don't forget Mr Forgetful, Mr Funny's weird hat will make you laugh, and Green Mr Fussy who is a stickler for being neat and tidy;
G's - Mr Good is white and does everything well, Mr Grumble looks unhappy and moans about everything, and Mr Grumpy also has a sad face and gets very angry and has a very bad temper;
I - Mr Impossible can do amazing things;
J - Mr Jelly is a quivering mess ,
L - Mr Lazy is always in Sleepyland,
M's - Mr Mean lives up to his name, Mr Messy looks like a scribble and makes a mess all of the time, giggle along with Mr Mischief, plus Mr Muddle is green and is always muddled;
N's - white Mr Nobody is actually a somebody, Mr Noisy is red with massive shoes and makes a lot of noise, and Mr Nonsense is quite strange looking and has zero sense;
P - Mr Perfect with not a hair out of place;
Q - Mr Quiet who doesn't like noise;
R's - Mr very, very Rude, and Mr Rush who is purple and fast;
S's - Mr Silly from Nonsense land, yellow thin Mr Skinny, Mr Slow with his moustache, tiny red Mr Small, chilly Mr Snow, and Red Mr Strong who is probably the strongest character in the world;
T's - Blue long legged Mr Tall, Orange upside down or inside out Mr Topsy-Turvy;
U - rude Mr Uppity;
W's - Blue Mr Worry the born worrier, and Red Mr Wrong doing everything well, wrong.
We hope we haven't left anyone out! The Mr Men stories have endearing qualities and are very easy and fun to read so start off your collection today, perhaps even for the second time during your life.