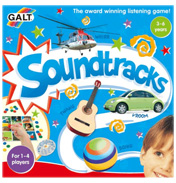 Soundtracks
£9.65
Here you will find a delightful range of Living and Learning games brought to you from James Galt & Co, the respected British toy manufacturer. The company has been in operation since the 1830's and was started by James Galt, who was born in Scotland, when he established himself as an educational toy and game stockist in Manchester at that time.

The Soundtracks games are award winning, unique listening games and come in two different types – animal or everyday sounds. The object of these games is to listen to the sounds, which are provided on CD (so requires a CD player), and then match up on the pictures on the game boards – a bit like sound bingo if you like. They are really good fun and all ages will enjoy listening to the sounds – especially on the Animal Soundtracks game. 'Squeak Squeak, Woof, Woof, Squawk, Trumpet' can you guess which animals these are and which are featured on the CD? The other set concentrates on everyday noises and is just as much fun, make sure mum's not hovering at the same time though as it may get a little confusing!

The Who's range of games are just as entertaining, and these are matching games with popular themes to keep little ones interested and to challenge and sharpen their minds. Who's Hiding has 15 puzzle pairs to match and the child needs to decide which cuddly creature is hiding in which place, Who's Baby matches adult animals with their young and has beautiful images and Who's Home requires finding the right homes – who lives where. A pairs game with a difference.

All of these Living and Learning games are lovely for the family to sit down (1-4 players) and play together to and are sure to provide squeals of delight. Children will want to play them time and time again learning at the same time too.