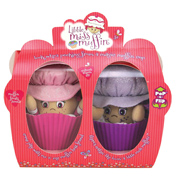 Little Miss Muffin Friends Duo
£17.12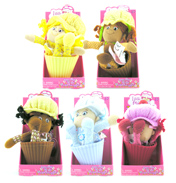 Little Miss Muffin Mini's
£7.99
The Little Miss Muffin character is aimed at children aged 3+, and it's a great way to help inspire them into the world of baking.

Little Miss Muffin loves to cook delicious treats for all her friends, that's why you'll nearly always find her in the bake shop trying out some new recipes for a seriously yummy after dinner treat.

There are a variety of different figures to collect, but they all resemble the same muffin like looks! When you first open the box Little Miss Muffin will just look like … a muffin! But if you Pop 'n' flip the delicious looking treat it will transform into the cute character that we all know and love! The top will pop into her hat and the muffin wrapper with flip into a funky little skirt! What's more, each doll is scented too to give you that real muffin feel!

The dolls come in a range of sizes. The Little Miss Muffin Mini's are only 12cm tall, where as the large deluxe is a whopping 44cm! If you're stuck between the two then maybe just go for the single 22cm pack! There's nothin' like luvin' a Little Miss Muffin!