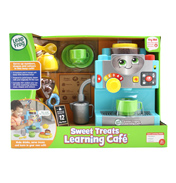 Sweet Treats Learning Café
£29.99
The Leapster 2 Learning Game System from Leapfrog is an award winning handheld device aimed at children aged 4-8. The Leapster 2 combines the fun and thrills of a real video game with subtle learning activities that teach maths, art, science, reading skills and languages. With over 15 games available such as Cars 2, Toy Story 3, Scooby Doo and Disney Princess there is sure to be something that your child will love. Also, all the original Leapster games are fully compatible!

The system has two ways to play. The D pad, which is for thrilling game play, or the stylus and touch screen, which helps your child to practise their writing skills. As it's handheld children can literally play whilst on the go, perfect for those long car or train journeys! Once they arrive home they can connect it to the home computer and collect the cool rewards that they have earned!

Parents can connect Leapster 2 console to Leapfrog Learning Path tool. Here you can discover your child's learning and play progress and see fascinating insights into which games and activities they engage with the most.