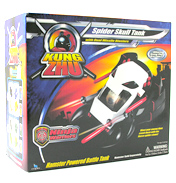 Kung Zhu Vehicles
£5.60
After deciding that the original Zhu Zhu Hamsters were mainly directed towards girls the manufactures of Zhu Zhu Pets ingeniously developed a range of 'tougher' more butch Hamsters which have broader appeal for boys. Collectible in their own right by both sexes this range of fighting hamsters is designed to battle against each other rather than just to look cute and be pet substitutes.
There are two sides to this small rodent force in the hamster Zhu-niverse – there are the Special Forces Hamsters and then there are the Ninja Hamsters. The Ninja are slightly mysterious and well known for their deadly training, stealth and martial arts and are based at the Dojo base. The elite Special Forces too are excellently highly trained to fight tactically and protect in their own Special Forces HQ Base. Which side will you form an allegiance with? Or will you have both in your armoury and side with whatever force you decide? Battle it out with friends and family and have tremendous fun in the process.
On the Ninja side characters available include orange Azer, Black Drayko, Grey Thorn or White Yama each emblazoned with the Ninja sign or the Special Forces Hamsters include Stonewall (black with blue), Rivet (khaki green), Sgt Serge (bright green) and Rocko (fawn) each too with their gang's symbol proudly displayed as a warning for others not to engage in battle.
Each hamster behaves slightly differently in battle so part of the Kung Zhu game is to work out each hamster's key skills and set them against each other to see how they perform using the Arena Deluxe playset – resulting in a series of contests not to be missed.
Overpower with different skills matched against each other to see which hamster is the true victor – set battles using all of the different hamster combinations to elect the ultimate winner and true Kung Zhu master. Will your hamster take the crowning glory?
Beef up your legion with armour and vehicles to make them a truly invincible force - not to be reckoned with - and create the ultimate in Kung Zhu warriors. Many variations of armour are available, both those suitable for individual sides as well as the Samurai and basic armour sets. Combine with Juggernaut walkers and tanks to try and win the upper hand – use all equipment at your disposal, whatever it takes to be crowned the ultimate battler.
Also make sure you keep on top of your hamster training with the Alpha and Bravo training grounds and keep strength up using the training wheel. Look after your hamsters and they will look after you!