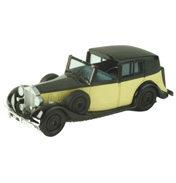 James Bond Rolls Royce III Sedance De Ville
£5.49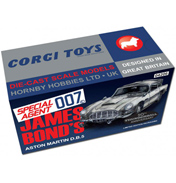 James Bond Thunderball 50th Anniversary Aston Martin DB5 Die Cast Vehicle
£44.99
Ian Fleming, an author, first created a fictional British Agent, James Bond, in the 1950's. James Bond is best known for the 21 films that have been released, but he was first published in a book series. 6 different actors in the 22 films, starting with Sean Connery and finishing with the newest, Daniel Craig, have played him. The latest film is set for release in 2012, also to star Daniel Craig, and Sam Mendes is its famous Director.
James Bond has long been a much-loved household name and remains a huge influence within the spy genre. The James Bond series of novels and films have many allies and villains. The most famous of his adversaries have been Ernst Stavro Blofeld (Bald, scarred and with white cat) who has been in many films and Auric Goldfinger ('No Mr Bond…I expect you to die!'). His companions along the way have been M (the head of MI6), Q (head of R & D Department of Secret Service) and James' favourite Miss Moneypenny or simply Penny (M's secretary), who has a serious crush on Mr Bond.
Here you will find some of the most famous, and also most popular, Bond film cars and vehicles brought to you by Corgi. Many are part of their Fit the Box scale range, plus 1:36 scale, both of which are set to become true collector's pieces for the future.
The Aston Martin brand made by Lagonda Ltd UK, a luxury iconic car manufacture, is probably one of his most famous cars. Two other British car companies are held in James' esteem and these include Lotus the UK manufacturer of sports and racing cars, and Rolls Royce Ltd (then Rolls Royce Motor Cars post 2002) who built exceptional luxury British cars which are so quintessentially English.
Here's a list of the Bond books' and films' most famous motors, many of which are available right here:
Dr No 1962: Bond had a Sunbeam Alpine
From Russia with Love 1963: Includes a Rolls Royce Silver Ghost which picks up Bond at Airport and a 4.5 Litre Bentley Mark IV driven by Bond
Goldfinger 1964: A Silver Ghost Sedance De Ville used by Goldfinger to hold gold and Bond's Aston Martin DB5
Thunderball 1965: A Lincoln Continental Bond, Bentley Mark II Continental both driven by Bond
You Only Live Twice 1967: Little Nellie the bright yellow helicopter, no cars for Bond just a Toyota 2000GT which Aki had
On Her Majesty's Secret Service 1969: Bond's Aston Martin DBS Vantage.
Diamonds are Forever 1971: Moon Buggy, and Ford Galaxie 500 plus a Mustang Mach 1 Coupe.
Live and Let Die 1973: No cars at all just, bizarrely an AEC Double Decker Bus in blue.
The Man with the Golden Gun 1974: Rolls Royce Phantom used to transport M and Bond had an AMC Hornet.
The Spy Who Loved Me 1977: Lotus Esprit S1 driven by James Bond and capable of turning into marine vehicle.
Moonraker 1979: Alpha Romeo Supercharged Straight 8 used in a car chase between London and Dover. A 1953 Bentley featured. The Space Shuttle was for Bond in this one!
For Your Eyes Only 1981: James' Lotus Esprit Turbo in white and bronze and a Citroen 2 CV.
Octopussy 1983: Alfa Romeo GTV 6, Bond takes it from its driver outside a telephone box and gets chased by the Bavarian police. He takes another too a Mercedes 108.
Never Say Never Again 1983: Bond has a Bentley here.
A View to a Kill 1985 - Bond just borrows a Renault 11 taxi in this one.
The Living Daylights 1987: Bond's Audi 200 Avant and Aston Martin V8 Vantage and Volante (soft top).
Licence to Kill 1989: Rolls Royce Silver Shadow used to transport Bond and he also drove a Lincoln Mark VII (hire car). Plus drove a tanker!
Goldeneye 1995: the Aston Martin DB5 and also BMW Z3 both of which are Bond's
Tomorrow Never Dies 1997: Bond's BMW 750iL plus a short stint on a borrowed BMW R 1200 Motorbike.
The world is not enough 1999: BMW Z8 driven by Bond
Die Another Day 2002: Ford Fairlane around Cuba in homage to an earlier film, Aston Martin V12 Vanquish, and a Jaguar XKR was Zao's.
Casino Royale 2006: A 1930 Bentley 4.5 Litre plus Aston Martin DBS V12 for Bond.
Quantum of Solace 2008: Alpha Romeo 159 are seen chasing Bond after he took care of Mr White in his Aston. Alpha 0 Aston Martin 1. Plus the 156 model also seen in this film, not driven by Bond though. Bond's famous car is the Aston Martin DBS V12.
Whether you are a die hard Bond fan or just love collecting cars or Corgi toys then you have come to the right place!