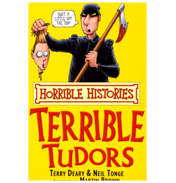 Horrible Histories Terrible Tudors
£5.11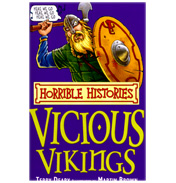 Horrible Histories Vicious Vikings
£4.39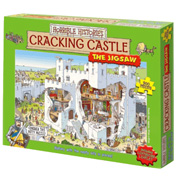 Horrible History Cracking Castle
£11.00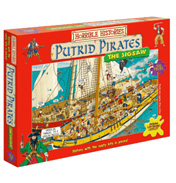 Putrid Pirates Puzzle
£10.99
This range of Horrible Histories is the immensely popular storyline written by Terry Deary and published by Scholastics books. Accompanied by Martin Brown the doodler, we mean illustrator, they have managed to create a unique learning concept to make things (like history) which might appear quite boring at first glance, become extremely interesting. It started in the early 1990's and some other authors and artists have now joined the Horrible Histories fold since.

The book series is now subject of a TV programme screened on children's CBBC, although is enjoyed by adults as well as children and is hilarious in parts. As well as the books, here you will find a number of jigsaw puzzles too, featuring some of the very detailed and graphic drawings – 'history with the nasty bits in pieces'.
The book list now is so immense (70+) it is too big to list without you falling asleep reading it so we will quote some of the more interesting from the original series to give you an idea of the wealth of historical eras covered:
Angry Aztecs
Barmy British Empire
Cut Throat Celts
Awful Egyptians
Incredible Incas
Rotten Romans
Smashing Saxons
Savage Stone Age
Terrible Tudors
Vile Victorians
Vicious Vikings
Woeful WWII
As well as Putrid Pirates and Cracking Castles in puzzle form
The original series titles had 'The' in them but have been subject to many a re-publish and re-launch which has resulted in the 'The' being dropped and the cover being redesigned on more than one occasion. The books have a lot of historical content, are informative and amusing and the jigsaws are a pleasure to complete. History has never been so horrible!