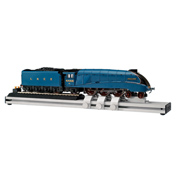 Rolling Road R8211
£58.05
What better way to add authenticity to your Hornby model railway then have real steam pouring from the engine's chimney stack.

You may have often spotted this great effect when out at modelling conventions, and fancied it for yourself. Well know you can, and we have a selection of Live Steam products that can help!

From distilled water, to the Live Steam controller. We've got everything you need! There is even the rolling road system that you can use to demonstrate your finest engines using the steam system.

You can just imagine it now, sat in the countryside by a historic railway line waiting for the train to pass. Suddenly you see smoke pouring up from behind the trees and the thunderous sound of a locomotive approaching. This could be your model railway in the future!