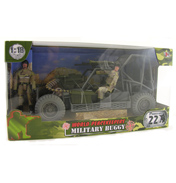 Military Buggy & Figures
£13.99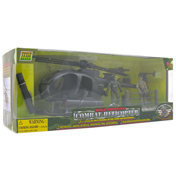 World Peacekeepers Combat Helicopter
£22.45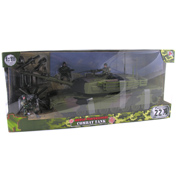 World Peacekeepers Combat Tank with Figures & Accessories
£28.99
Rise above the Rest with the HM Armed Forces collection, a British version of the G.I. Joe range. These incredibly detailed and authentic toys are inspired by the uniforms and equipment worn by the real Royal Marine Commandos, Royal Navy, Army and the Royal Air Force. As the second largest military in the EU, with the largest air force and Navy and the fourth largest military budget in the world, it is an appropriate force on which to design such a collection.
All of the action figures have been accurately modelled as close to the real thing as possible with such detailed weaponry and clothing as can been seen on actual troops in the field right now. For example, the action figure of the Army Infantryman is carrying an SA80A2 assault rifle and a Personal Role Radio whilst wearing Kevlar flak jacket body armour and a Mark 4 Alpha kevlar ballistic protection helmet with standard-issue goggles and desert camouflage combats. The Royal Marine Commando figure is, of course, kitted out with his jungle combats and the recognisable Green Beret. The Royal Air Force Fast Jet Pilot figure is wearing his full flight gear including dazzling white leather flying gloves and a 'bone dome' flying helmet with oxygen mask. The helmet is typically lined with padding to reduce the risk of a serious head injury. He also carries a survival-issue service pistol for him to use behind enemy lines should he be unfortunate enough to be shot down.

Whether you want to create your own small scale defence team or join in yourself with your very own mission face paint, field tent and walkie talkies, this is the survival series for you. Be the Best!