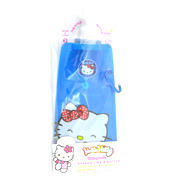 480ml Folding Eco Bottle
£1.99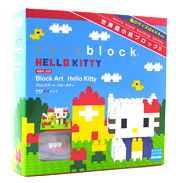 Hello Kitty Block Art
£6.99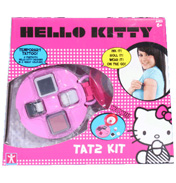 Hello Kitty Fashion to Go Tat2 Kit
£8.81
SPECIAL OFFER
This is the perfect range for girls of all ages featuring the adorable Hello Kitty character. The Hello Kitty phenomenon has spread worldwide and the character is equally popular with adults and teenagers as with young girls - all appreciating the sweet, cute and girly image. The product range features a variety of high quality plush items as well as bags, prams and strollers, all perfect for any gifting occasion.
Hello Kitty or to give her full name, Kitty White, is a female white Japanese bobtail cat with a red bow. She made her first appearance on an item, a vinyl coin purse, in Japan in 1974 and then came to the United States in 1976, the rest, as they say, is history. She lives with her mama, Mary, who is a wonderful cook, papa, George, who is hardworking and dependable and twin sister, Mimmy, in London, England. Kitty celebrates her birthday on November the 1st and being very energetic loves to play outdoors although she also plays the piano and is more than happy when in the kitchen baking cookies or a cake. Mimmy is a bit shy and quieter than Kitty, they are the best of friends and always spend time together along with all their other school pals. You may ask how to tell these twin sisters apart, well, Mimmy always wears her ribbon on the right. To complete the family is grandpa, Anthony, who is a great storyteller and grandma, Margaret, who loves sitting in her rocking chair doing embroidery.

Lots of wonderful soft toys, from the Hello Kitty Hug Me Plush dressed in her fab denim dungarees to the presentation gift boxed Hello Kitty 27cm Medium Plush, a fabulous gift. If you're on the move then the Hello Kitty 15cm Plush Handbag is ideal to carry all your bits and bobs and don't forget your pocket money, kept safe, in the Hello Kitty 10cm Plush Purse. Take along your dolls too in the Hello Kitty Dolls Pram or Hello Kitty Stroller, both with wonderful pink flowered covers.

In 2004 when Hello Kitty celebrated her 30th birthday she was an Ambassador for UNICEF's "Go Girls!" Campaign and has also been given the exclusive title of UNICEF Special Friend of Children so join in and become a friend of Hello Kitty forever.