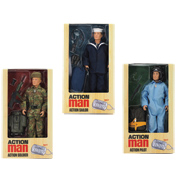 Retro Deluxe Figures Assorted
£25.99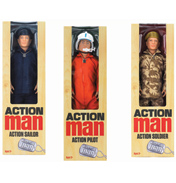 Retro Figure Assorted
£17.99
G.I. Joe, or Action man as he is known in the UK, is a real American hero. The brand has had success since the early 1960s when it was launched as a range of realistic military figures. They were 12 inches in height and were very popular. G.I, which stands for Government Issue, became a generic term to mean an American soldier and so was used for the line of figures. The re-launch came in 1982.
The figures were on a smaller scale but the new range included vehicles and play sets allowing for a wider scope of play. A story had been created to surround the new figures and so gave the soldiers a specific enemy, the Cobra Commander and his evil Cobra forces, to seek out and destroy making it an instant hit with children in the 1980s.
As well as starring in the new action figure range, the fictional heroes and villains can now be seen fighting for victory in comic books, an animated series and now a modern movie, which opened in 2009.
In the movie, the G.I. Joe team will be similar to that seen in the comic book series of the 1980's. With worldwide locations, it will take you into the life of Duke, the team leader, whose bravery and heroism embodies the values that the first range of military figures set out to establish.