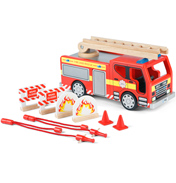 Fire Engine Set
£29.99
Step into our toyshop and find our shelf of wooden Police and Fire Service sets. On this shelf you will find everything that you need to enter the exciting world of the police or the fire service. Transform a rainy and wet day into a day of excitement, chasing criminals or rescuing people from a raging inferno, now that sounds great.

Welcome to our world of crime fighters here you will find the most important item, the Police Station with a reception desk where you can take all the prisoners details when he is brought in, what is he accused of speeding, burglary or shoplifting? When you have charged him throw him in the cell. Also on this shelf you will find a set of wooden police and prisoner figures and a Police Car to chase speeding motorists.
If you would rather be a fire fighter and rescue people from burning buildings or rescue your cat from up a tree then take a look at all fire-fighting toys on our shelf. When the phone rings at the fire station, quickly grab all your fire fighting equipment and jump into the Fire Engine, off you go, be a hero like Fireman Sam.