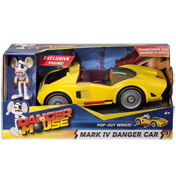 Danger Mouse Mark IV Danger Car
£16.95
Danger Mouse (2015) is a reboot of the classic 1981 Danger Mouse series, known and loved by many. This reboot features Danger Mouse and his famous sidekick, Penfold. It also features his old nemesis Baron Von Greenback.
The reboot has been recieved well and is currently one of the most popular CBBC shows to date.
These toys allow children to collect their favourite characters and role play as Danger Mouse themselves.