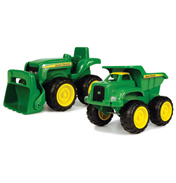 John Deere Dump Truck & Tractor
£12.99
Land Rover Defender 90 plus Canopy
£18.88
When you live on a farm you need lots of different vehicles. There are just so many different things to do and places to go and a tractor is not always the best answer!

The Land Rover Discovery would be a good family car and it looks great for nipping into town. But if you're planning on going up those bumpy old farm tracks to check on the animals then it's probably the Land Rover Defender that you need as they are more practical. When you have to go up all those hilly fields to feed the sheep, the land rover is ideal as some places just aren't suitable for bigger vehicles. Although, I think you should consider using the Polaris Magnum 500 ATV if you are just going to check on the animals, as this will be great for getting to all those hard to reach places.
When it comes time to start the harvest, you would do well to invest in your own combine harvester. These are used to gather grain crops such as wheat, corn, barley and oats and they are so called because they combine the three operations (reaping, threshing and winnowing) needed in harvesting that used to be done separately. As it is now one task done by a machine, it is much quicker and easier to harvest. The combine reaps or cuts the crops from the field and gathers them up, threshing them in order to loosen the grain from the chaff, which is the inedible casing of the crop. Once loosened, the winnowing part of the process then separates the grain and the chaff and the harvester then leaves the straw or stalks of the crop behind ready to be baled up to used either as food or bedding for livestock.

So what are you going to do today? You could go and cut the corn with the combine or perhaps you'd like to try and make some silage with the forage harvester. That could be fun! Maybe you have a big forest on your land and you need to go and cut down some of the trees, then move the wood with the log skidder. That will be quicker than using a horse and cart! Whatever you choose to do there will be some good and imaginative times with these toys!