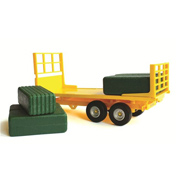 Bale Trailer
£14.99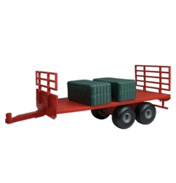 Flatbed Trailer
£11.99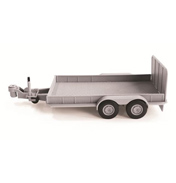 General Purpose Trailer 1:32
£11.50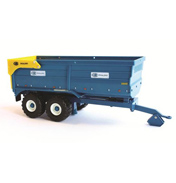 Kane 16 Tonne Grain Trailer
£16.99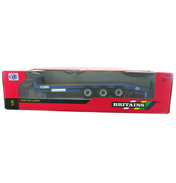 Kane Low Loader (1:32 Scale)
£17.99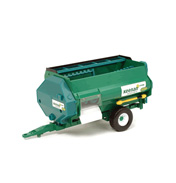 Keenan Diet Feeder Wagon
£15.50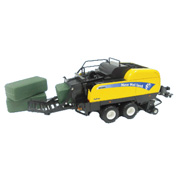 New Holland BB9080 Big Square Baler
£19.99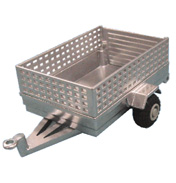 Sheep Trailer 1:32
£8.99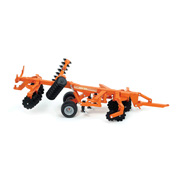 Simba Solo 300 Tillage Train
£15.50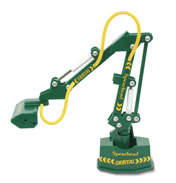 Spearhead Orbital Reach Mower
£7.99
Here we have a broad range of good quality, hard wearing farming implements to help to get all of those jobs done on your make believe farm. Each one has been designed to look as close as possible to the real thing, and they're all made to the same 1:32 scale. They can all be hooked on to the back of any Britains' tractor with ease, so you can tow them off to do their jobs.

Once harvest time is underway you will need to have a trailer on stand by in the field to take the grain away when the harvester gets full. The 12 Tonne Marston Trailer would be great for the job. There will also be lots of baling that will need doing. The straw will be laid out in the field and it will need gathering together before it rains. Will you need large or small bales? I suppose it will depend on the size of the animal pens that will need bedding up. A baler will press the straw together so that it is compacted and then bind it with twine to make transportation and storage easier. All the bales will need collecting up and taking in from the fields back to the farm using a flat bed trailer.
Do you have livestock on your farm too? Will you need to move some stock from one field to another? Or even take them to market? The Ifor Williams Livestock trailer will do the job nicely if it's for pigs, sheep or cattle, but if it is for horses maybe the Ifor Williams horse trailer would be much more suited to the job. There is hours of fun to have with all these implements, so enjoy! Let your imagination run wild.