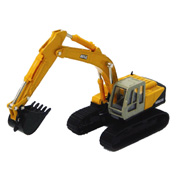 Bell HD820E Excavator
£16.15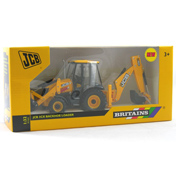 JCB 3CX Backhoe Loader
£29.99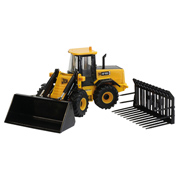 JCB 416S Farm Master
£23.99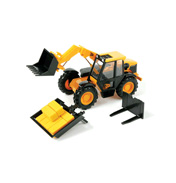 JCB 526S Loadall
£14.54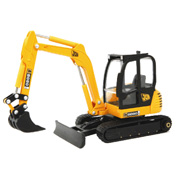 JCB 8060 MIDI Excavator
£12.60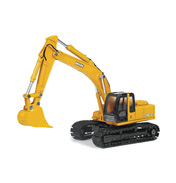 John Deere 200C LC Excavator
£26.94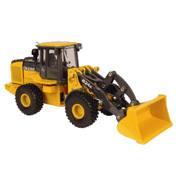 John Deere 624K Wheeled Loader
£16.99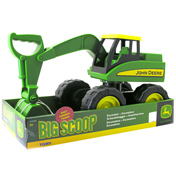 John Deere Big Scoop Excavator
£18.50
JCB is a manufacturer of heavy construction equipment. Joseph Cyril Bamford founded the company in 1945. So popular were the vehicles that were made by this family owned company that the term JCB became a generic name for any mechanical digger or excavator and has even found its way into the Oxford English Dictionary as such. In 1951 the company began painting all of the vehicles produced in yellow, the colour that people associate with JCBs today.

J C Bamford wanted to put on a demonstration to highlight his faith in the hydraulic fail-safes that were on the JCB vehicles. This was a feature that locked the arms of the machine if there was a loss of hydraulic pressure and so prevented them from crashing to the ground. So confident in the strength and flexibility of his backhoe loaders, Bamford arranged for several of them to line up and once they were raised on their arms, he drove his car underneath them. This talent has been extended as far as to create a JCB display team called the dancing diggers.
So we are now at the building site. There are some huge machines used here and they are very powerful too! There are loads of different tasks to do today, so how would you like to start by driving a big excavator? One of these would certainly dig a big hole! And if you're digging a big hole then you're going to need a big dumper truck to take the rubble away. I bet the Hitachi EH700 would be good for that. Maybe you are back on the farm and in need of a loader tractor to help you move some heavy machinery or to help you to muck out the animals. The JCB 3CX would be good for this, plus the back bucket would be handy for keeping the ditches dug out to avoid those troublesome blockages.

ERTL was originally the American version of Britains and made good quality, detailed die cast tractors and other vehicles, specialising in 1:16 and 1:64 scaled tractors. ERTL has been around since 1945, so a few years before Britains, and they introduced plastic model sets in 1972. In 1996 Racing Champions introduced ERTL to England and finally in 1999 Racing Champions acquired the ERTL Company. The products are still made to the same high quality!