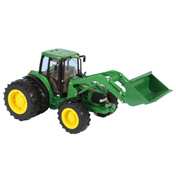 Big Farm John Deere 6830S Tractor
£22.60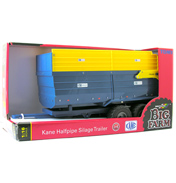 Big Farm Kane Halfpipe Silage Trailer
£23.99
Big Farm Trailer with Horses
£22.99
Let me introduce you to our collection of Britains Big Farm, which is a fabulous range of superior 1:16 scale authentic farm play vehicles. Various tractors and trailers have been reproduced in high quality and durable plastic with a range of exciting and realistic features for fun farm play. This is a perfect solution for little hands to role-play in the farming world and recreate a busy working day.

Role-play is one of the most important activities for a child to be involved in. By pretending to be someone else and to have a certain job or task to do, children begin to develop skills and acquire knowledge through play.
Just like the real thing, these Big Farm models are tough enough to endure any of the outward-bound activities your child chooses whether they be inside or outside your home. In fact, Britains themselves say that if your child can go there, Big Farm can too!

The play features that can be found amongst the Britains Big Farm tractors include active steering, a detachable cab, opening bonnet and engine detail, a height adjustable rear hitch and realistic tyres as well as the all important lights and sounds!

Britains Big Farm is compatible with most of the other alternative ranges of farm play toys that have a collection in the 1:16 scale.