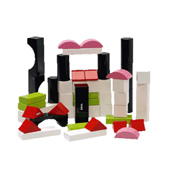 50 Coloured Blocks
£33.16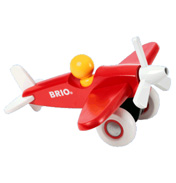 Airplane
£16.99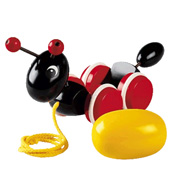 Ant With Egg
£14.74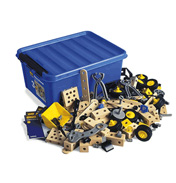 Brio Vehicles Building Set
£79.99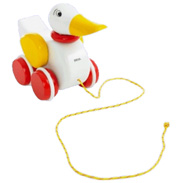 Duck
£13.87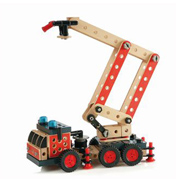 Fire Truck Builder
£49.40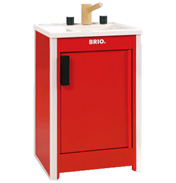 Kitchen Sink
£45.99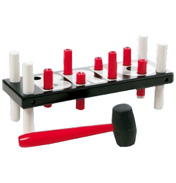 Knock Out Bench
£15.11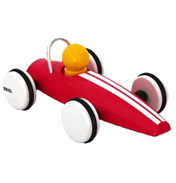 Large Race Car
£51.97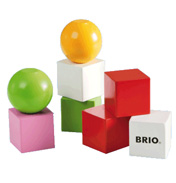 Magnetic Building Blocks 2
£10.98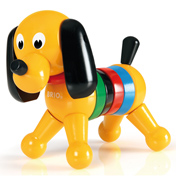 Puck
£17.40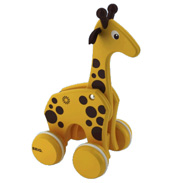 Pull Along Giraffe
£11.80
One of Brio's key philosophies is to aid a child's development as they play. This is done through stimulation and by helping a child to master certain skills and to reach developmental milestones. They believe so strongly in this they also award an annual prize to someone they believe has contributed greatly to this pedagogic (educational) field.

Here you will find a number of toys made from wood which is Brio's signature material they use for their toy production. The range includes some true classics which have been part of childhood for generations and perhaps you yourselves will remember having versions of toys like the building blocks, pull along dogs and brick trolley in your very own toy collection. Some Brio classic toys have also been updated in fresh new Brio colourings, bringing designs from the 60's well into the 21st century. This range is generally aimed at 12-36 month year olds and as ever each toy is thoroughly tested to meet the high standards which Brio achieve in durability, safety and educational value.

There are building sets which include the building blocks which are available coloured and uncoloured, and also magnetic or non magnetic, as well as the sorting box and magnetic train. Blocks make perfect toys – children learn how to handle the different shaped and sized blocks and attempt to build simple structures helping improve balance (much helped along with the magnetic version) and imagination. Of course part of the thrill is also in demolishing what adults have just built too! The simple shape sorter is also stimulating as they try to work out which piece fits where as well as learning shapes and colours.

In classics there are the toddler wobblers, or Brio Walker, which are a push along trolley used for toy collection and transportation and to aid early walking. As well as Sampo, a true classic who dances round when his base is pushed, and the Pounding bench or Knock Out Bench for those early DIYers. There is also the Brio Stove to fuel the imagination as they pretend to prepare and serve cooked meals from their very own pretend oven.
You will also find a delightful range of pull alongs which are sturdy, colourful and include a string for little hands to tug on. Try the quacking duck, or large or small Dachshund (or sometimes called Dackel) dog with waggy tail, ant with moving egg or bright yellow giraffe all of which make perfect followers for little ones. Pull along vehicles include the Engine with spinning chimney and Helicopter with twirling blades both running on oodles of children's energy and perfect for improving co-ordination, balance and motor skills, no pun intended!

If they would rather push than pull then look at the range of pushalongs including the racing car which comes in two sizes and different colours, as well as the bobbing hedgehog or turtle which has strangely shaped wheels to add another fun dimension to its motion.

Lastly, you will find stacking toys such as the clown, Brio owl or puck (a Brio dog design first introduced in 1964). All of which are perfect for hand-eye co-ordination, patience and to help improve concentration.

All in all a great range of timeless designs from Brio which can be handed down right through the generations. Buy them all here at WWSM, your very own Brio Stockist.