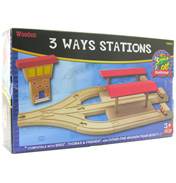 3 Ways Station
£15.99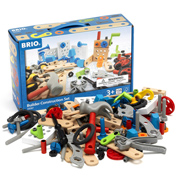 Builder Construction Set
£29.99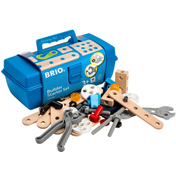 Builder Starter Set
£16.99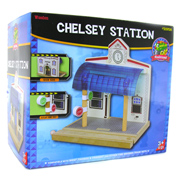 Chelsey Station
£11.70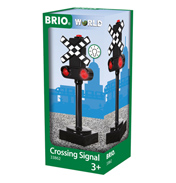 Crossing Sign
£12.99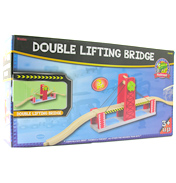 Double Lifting Bridge
£13.99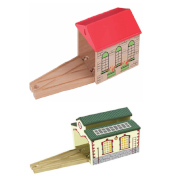 Engine Shed
£10.99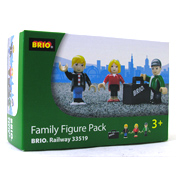 Family Figure Pack
£9.99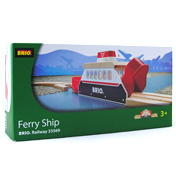 Ferry
£16.99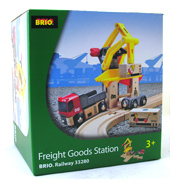 Freight Goods Station
£22.99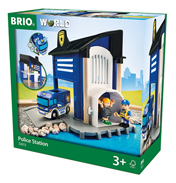 Lights & Sounds Police Station
£29.90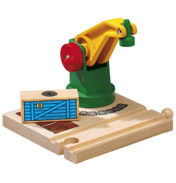 Low Level Crane
£9.99
No railway is complete without buildings. They add to the realism in role play and give children added tools to spur on their imagination. Brio Buildings give the pieces needed to help children as they may start to plan their journey via different stops - for example, next stop will be at the local station then back to base (engine sheds or roundhouse)! All aboard!

Here you will find all the buildings needed to operate a well run railway service and to add that special feature to your collection. For passengers and where you need somewhere to start your journey from, there are of course railway stations including the Flying Scotsman with imaginary stops all over the world, the Speaking Station where you can be greeted at the ticket office in either German, French or English and also the very clever Record and Play Station so you can create your own realistic announcements – complete with crackle and train sounds! A simple idea is to place the magnetic bell signal close to the station too, so the station master can let the Passenger Family know about the trains impending arrival. This piece is extremely popular so must be a lot of fun and can help them understand how the railway works in real life. Central Station is a little more advanced and has an electronic information screen when trains come through, so very up to date!
For the trains there is a storage facility called the Grand Roundhouse which homes 5 trains for the night, or if the trains are in need of a little upkeep and maintenance, as well as rest then you will need the Engine Shed or Train Garage of course. Plus never run out of fuel again, make sure you have a Fuel Tank Station on your circuit and keep it well filled up using the fuel wagon. Children will love filling up all the trains ready for the day's journeys ahead.

For loading up freight trains trackside you will need a good crane and for heaviest deliveries choose the Tower Crane. Smaller loads to be lifted and loaded can be dealt with by the Low Level Crane. For cranes which can go over the track have a look at the Crane and Funnel Load, where you can use the crane to load up the funnel and then let the funnel drop the load onto the train directly under. For heavier articles such as stones there is the Stone Quarry Loader which is the only way to load up your wagons with these large pieces of stone, with its exciting chute operation. If you have a backlog of deliveries you will need the Cargo Warehouse to help manage your load distribution. Let the warehouse worker help you work it all out. All of these can help little ones develop their hand eye coordination as putting loads on a truck with the magnetic grippers and arm winders can take a lot of concentration for the younger ones.

For order on the lines choose the Signal Station where the red and green lights will let the train drivers know when it is safe to proceed. Helps as well to keep that timetable running smoothly and for those times when signals break it is a good job there is someone on hand to help repair them – meaning no long delays on your trains. I am afraid at the moment we can't offer any solutions for leaves on the line, or snow though!

There are so many different things you can add to make your railway system just that little bit more special. Choose Brio to make your stations buzz.