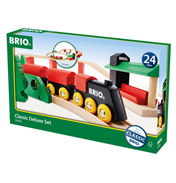 Classic Deluxe Set
£59.99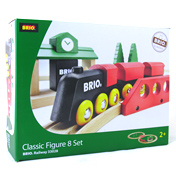 Classic Figure-8 Set
£32.99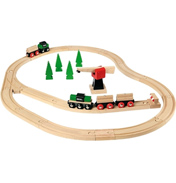 Classic Railway Deluxe Set
£75.90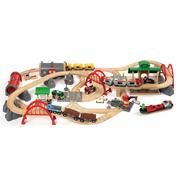 Deluxe Railway Set
£240.00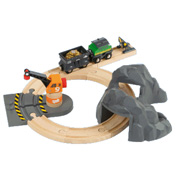 Gold Mountain Set
£29.99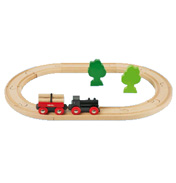 Little Forest Starter Set
£15.99
Metro Railway Set
£47.99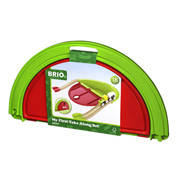 My First Take Along Set
£22.13
SPECIAL OFFER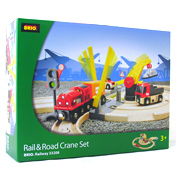 Rail & Road Crane Set
£39.50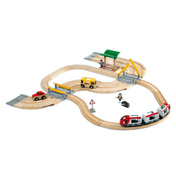 Rail & Road Travel Set
£43.99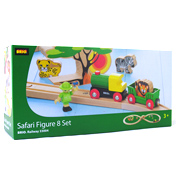 Safari Figure Of 8 Set
£39.99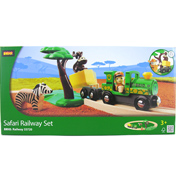 Safari Railway Set
£20.99
Perhaps this is the one thing Brio is most well known for, Wooden Train Sets. A century old toy maker from Sweden originally started out with lines of preschool toys, however in the 1950's a wooden construction toy called Bygg-Brio led to the production of one of Brio's most popular toys - the wooden railway as we know it today. This Brio design arguably being the best selling wooden railway in the world today.

A wooden train set generally involves toy wooden trains which operate on a wooden track system. And who would have thought that there could be so many different sets? Each Brio train set is different, with a distinct idea behind each one this means you can choose the perfect set for your child. The range is fantastic; going from the calming countryside with the Fun on the Farm Starter Set to the depth of the exciting safari - you could go anywhere, let your imagination set the destination. Plus a great thing about each set is that you can add to them, enhancing with simple pieces of track to extend your railway or try a bridge, or maybe even a tunnel. The possibilities really are endless! Each set is crafted from the finest beech wood to the highest quality, so would make a gorgeous gift for any occasion. Parents too can have a lot of fun helping set up, and playing with these wonderful pieces.
Brio has been producing wooden railways since 1952. Their first small engines and carriages linked together with hoops. 1957 took a big climb up the popularity ladder for Brio when they produced their first miniature railway set, being named miniature as Brio had previously produced larger train sets. Brio also showed off their fantastic imagination linking the engine and carriages with small magnets.

One of the most popular in the range is the Freight Yard Set which can be further enhanced with the Freight Crane and Freight Circle smaller sets, used individually or joined up into one very large set, so mix and match to create your own wonderful, unique variations. Another great set is one which incorporates a road, the Rail & Road Travel Set, so children can include cars too in their play. Newer sets include the very modern urban Metro Railway Set and the Cargo Harbour set with container ship to add water into the imagination equation. The double sided Train Play Mat is also an excellent idea for setting railway scenes and makes a good replacement for the boards they used to do.

Brio aim at around 3 years plus for these sets and children will get the most of out these sets as at this age as hand-eye co-ordination is refined and children are well used to handling small and large objects. They also have vivid imaginations now which mean they will take great delight in creating and building the sets and enjoy trying to do things for themselves. They can imagine stories and games around the train line scene and perhaps play alongside their friends. However older children too will still enjoy playing with their much loved trains and perhaps be a little better at sharing too!

Little kids, big Kids and even bigger adults will never grow tired of playing with a Brio Wooden Train Set. That's if they will let you of course (Maybe wait until they are in bed!).