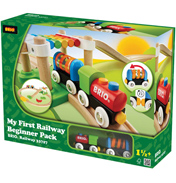 Beginner Pack
£29.99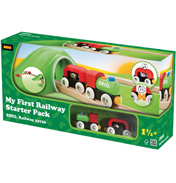 Starter Pack
£22.99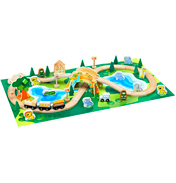 Train Set & Playmat 55 Piece Set
£32.90
SPECIAL OFFER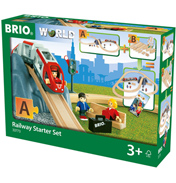 World Railway Starter Set
£36.99
The name Brio is steeped in history and actually comes from Broderna Ivarsson of Osby which basically means the Ivarsson brothers of Osby, which is a small place in Sweden in Skane County. When you understand this you will understand that its origins are that of a family run company. The Brio trademark was first used as a product logo in 1930, little did the Ivarsson family know then that it would become a well established and much loved and trusted children's toy brand that it is today.

Brio aim for the highest product safety possible and each toy undergoes vigorous testing before going to market. They also ensure that each toy is capable of being certified by all the well known testing institutes. Young children are a tough bunch so it is vital that these checks are made and this is one of the main reasons why many parents choose Brio for one of their children's very first railway sets.
This range of Brio My First Railway enables younger children to be able to enjoy the world of rail play. Kids of around one and a half are developing fast and their motor skills, although improving, are not yet advanced enough for a lot of moving parts so simple is best. A starter set needs to be interesting enough to get them stimulated, yet not too complex to be overcomplicated. This is why the My First Railway set is ideal. The pieces are perfectly sized for little hands too so they can play with the trains either on or off track. As they play they will start to be able to move the train along the track, however if they are not quite there yet perhaps choose the Battery set which means the train runs itself along the track for younger ones to watch and delight at.

The best thing of all is that these sets are compatible with the Brio classic wooden railway system, which means that the kits can be combined and expanded at a later date to last throughout their childhood. Over the years the child will adapt and use the sets in different ways which means that the initial investment lasts many years and the Brio toys are also robust enough to be passed onto brothers and sisters and future generations to come.