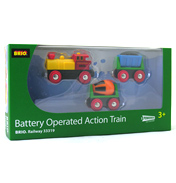 Battery operated Action Train Pack
£21.99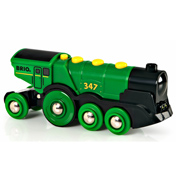 Big Green Action Locomotive
£21.99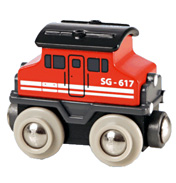 Bold Switching Engine
£4.99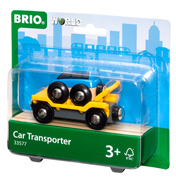 Car Transporter
£9.99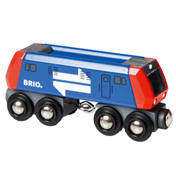 Cargo Engine
£7.65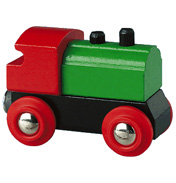 Classic Engine
£6.99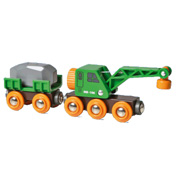 Clever Crane Wagon
£12.99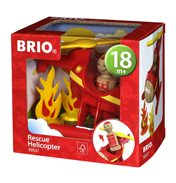 Fire Rescue Helicopter
£13.99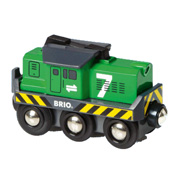 Freight Battery Engine
£17.99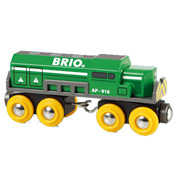 Freight Locomotive
£9.99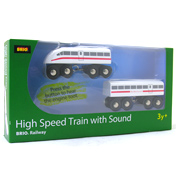 High Speed Train with Sound
£16.99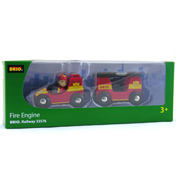 Light & Sound Fire Engine
£14.60
Wow how many different engines? Brio never fails to surprise everyone with just how many ideas they have for one little engine. Each machine has been carefully thought about and has been made from high quality materials, and most of all these engines are designed to be handled by those small hands. Here's a quick run though of this range to help you decide which engine might be best for your child.

First of all consider whether it is a basic engine that you need which is just pushed along and is great for the little ones who want to be fully involved, or you could go for one that does a little more. There are some that can detract magnets so the load can be removed without you doing it, and even some that make a chuffing noise as you push them along which is a great reward for young children who will be fascinated with the sounds. Some have lights and some are powered by batteries and this could make it a little more exciting for the slightly older ones. We think they've thought of pretty much everything and everyone. There are so many different engines to choose from it could be a difficult decision!

Here we go with the quick run through: For freight and loads you have the Goods Truck which can bring the goods to the train yard for onward transportation or can be used for loads arriving into the yard which need to be taken away.

The Freight Loco Train is then needed to shift the enormous weight of some loads and for heavy duty transportation of things like timber on the Lumber Wagon, or the Gas Fuel Tanker Wagon for fuel deliveries across the area. It can also be used to transport multiple smaller freight loads such as the smaller Tanker Wagon, Car Transporter, Blue Container or Tipping or Loads Wagons. Other Freight options are available in the Freight Cargo Train complete with trailers or the Freight Gold Train and the Diesel Engine or Cargo Engine can be used for shifting goods too.

If the loads you have need protection from the elements, or if you don't want them visible to the public if of high value, then you will need the Boxcar Wagons, and if this type of freight is mainly your load then you may consider the Boxcar Train which comes with two boxcar wagons. Plus if you need help with loading on the track then the Clever Crane Wagon is a must, or the Mega Crane may be needed for shifting heavier goods out and about on the railway line.
Other smaller goods which require transportation include the Car Transporter with its flat bed which is perfect for loading on cars, or the Handy Coal Wagon which is needed for keeping the steam trains topped up such as the Old Steam Engine, the Great Steam Engine, Bullet or the Flying Scotsman which is a must for every Brio Engine collection. The Hay Wagon is required to help the farmers out, as is the Milk Wagon and the supermarkets desperately need help transporting their bananas in the Freight Banana Wagon.

Brio have the emergency services covered too, and these are vital for any well run railway service. Trouble sometimes can brew between the different operatives, and accidents may happen which means the Police have to get involved and you can often see their Light & Sound Police Car zooming in to help. For accidents and passenger health concerns the Ambulance is needed and with their flashing lights and sirens they quickly make it to where they need to be. As does the Fire Service who are specialised to help in railway incidents and need their ladder and hose to help put out any fires before they become out of control and endanger the passengers.

The Mighty Red Action Locomotive is a really popular engine and this is because it is battery operated and has two buttons for sound actions including 'choo choo' and lights. Other battery operated engines include the Two Way Battery Powered Engine which can go backwards and forwards and the Rechargeable 4WD Engine available with spare battery unit.

One of the newer ranges for Brio is the Metro Train based on the electric line in real life, complete with passengers and luggage. More modern trains also include the well-liked Shinkansen which was famous in Japan as being the world's first high speed express train, as well as the High Speed Train with Sound and the Remote Control Express Train giving a new dimension to operating Brio Engines.

Originally wooden trains just had hook and eye connectors which were quite difficult for little hands to deal with so this led to development of magnets by Brio and you will see each train has silvery dot on it which is where they attach to each other and this is the coupler. Brio's quality and design of these magnets means as trains go round bends they stay attached as they have a more flexible connector than some other manufacturers. Hook and eyes are still also used on some carriages though to enable more features to be added.

Imitate real life with Brio Trains – where you will find every conceivable type of Engine, Wagon, Carriage or Vehicle. These pieces make excellent little gifts for birthdays and the suchlike, plus try using them as rewards for good behaviour – very soon you will have a little angel on your hands and a very impressive rolling stock!