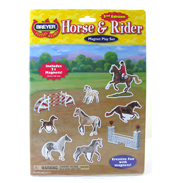 Horse & Rider Magnetic Play Set
£6.99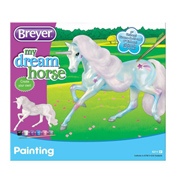 My Dream Horse Unicorn Painting Kit
£16.99
If you are creative but also have a passion for horses, then this is the place for you! The activity sets from Breyer are designed for children aged 8 and over. The range provides both entertainment and education in the world of horses and is particularly suited to those who show an interest in customising and painting their own models. Perhaps you have your own horse but you have never been able to find a model or picture that matches it! Breyer gives you the opportunity to create your very own so you can even add any unique markings that your horse may have.
Whether you have a preference for drawing, painting or modelling, these equine themed kits are designed to appeal to adults and children alike, with a view to combining fun with the development of equestrian knowledge. Creativity and imagination are assets to people of all ages and these activity sets will encourage both. Each kit demonstrates and highlights a particular aspect that arises in the hobby of modelling horses. They are great fun on their own or you can buy each one to gradually build a more complete horse education. The sets can be easy and satisfying to complete if you are just a beginner but can also offer plenty of challenges if you are a more experienced artist!

The collection of books in the Breyer range include colouring and activity books to keep younger children amused when you feel that a task which is slightly less messy is called for!