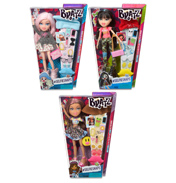 #Selfiesnaps Doll
£10.90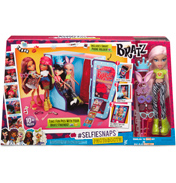 #Selfiesnaps Photobooth & Doll
£46.99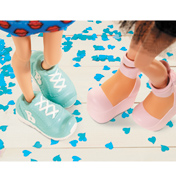 #Shoefiesnaps Doll Shoes Assortment
£8.99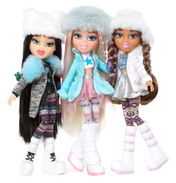 #Snowkissed Doll
£29.99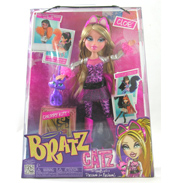 Bratz Catz Dolls
£23.05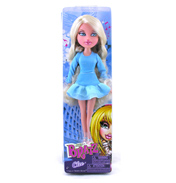 Bratz Cloe Doll
£11.66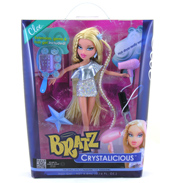 Bratz Crystalicious Doll
£19.00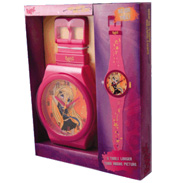 Bratz Giant Wall Clock
£9.99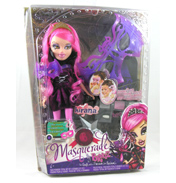 Bratz Masquerade Doll
£18.95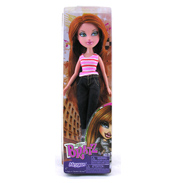 Bratz Meygan Doll
£11.66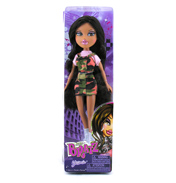 Bratz Yasmin Doll
£11.66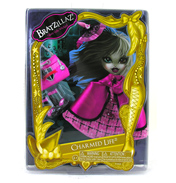 Bratzillaz Accessory Pack
£13.44
Here they are, all the way from the USA, the girls with a passion for fashion, say hi to Cloe, Jade, Sasha and Yasmin the original teenage dolls known as Bratz. These 10" dolls were first brought to us in 2001 and are manufactured by MGA Entertainment. Not a great hit when first issued but wow, have they totally taken off and grown throughout the years to amass over 70 characters.

So which of the Bratz girls is most like you? Let's introduce them and you can decide. First up there's Cloe with blonde hair and blue eyes, her nickname is Angel. She is playful, yet down to earth, naturally athletic and always full of energy. The clothing she loves to wear is animal prints and sparkly fabrics. Next is Jade with black hair and green/hazel eyes, her nickname is Kool Kat. This may come from her amazing perspective on fashion, always managing to put together looks that are totally unique. She has a great sense of adventure and hilarious sense of humour but never takes herself too seriously. Her lucky number is 11 and favourite colour is green. On to Sasha with hazel eyes and dark brown hair, her nickname is Bunny Boo. A natural leader she is confident and determined, always there for her friends, knows what she wants and how to get it. She loves to dance and her favourite music is Hip-Hop. Last but not least there's Yasmin, she has brown eyes, brown hair and a beauty spot under her left eye. Her nickname is Pretty Princess, she is feminine, graceful and glamorous. Sometimes a little quiet she comes alive when on stage being a talented writer and aspiring pop star. Her lucky number is 7 and she loves to dress up by blending different styles to produce a graceful glam look.
Lots of other ranges have been added to the original line of dolls such as Bratz Boyz, Bratz Babyz, Lil' Bratz, Bratz Kidz, Bratz Petz and Bratz Lil' Angelz to name a few. And now the girls have online games with their virtual world and fish tank game in addition to all the songs, TV, films and DVD's.

With their passion for fashion and music they love nothing more than to get all glammed up with a bit of shimmer and head out to get on the mic and rock. Their friendship means everything so if this sounds like you then look no further than Bratz!